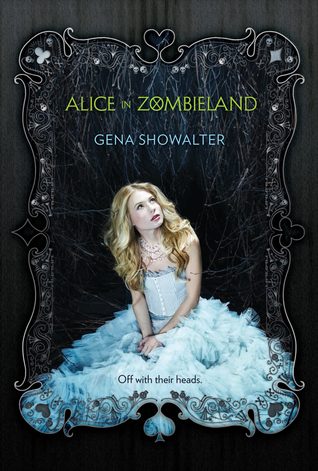 Title:
Alice in Zombieland
Series:
The White Rabbit Chronicles #1
Author:
Gena Showalter
Publisher:
Harlequin Teen
Release Date:
September 25, 2012
Pages:
404
Source:
Audiobook, Library
Summary from Goodreads:
She won't rest until she's sent every walking corpse back to its grave. Forever.

Had anyone told Alice Bell that her entire life would change course between one heartbeat and the next, she would have laughed. From blissful to tragic, innocent to ruined? Please. But that's all it took. One heartbeat. A blink, a breath, a second, and everything she knew and loved was gone.

Her father was right. The monsters are real….

To avenge her family, Ali must learn to fight the undead. To survive, she must learn to trust the baddest of the bad boys, Cole Holland. But Cole has secrets of his own, and if Ali isn't careful, those secrets might just prove to be more dangerous than the zombies….


I wish I could go back and do a thousand things differently.
I'd tell my sister no.
I'd never beg my mother to talk to my dad.
I'd zip my lips and swallow those hateful words.
Or, barring all of that, I'd hug my sister, my mom and my dad one last time.
I'd tell them I love them.
I wish... Yeah, I wish.
Review
Ok, so this book was far-fetched, and a little ludicrous. It even suffered from some of the typical YA tropes, but it was undeniably fun. And I am
so not
a zombie person.
I don't really see the connection to Alice in Wonderland, at all. And the whole spirit zombie thing was a little weird. So was the out of body fighting with all of the rules that governed it. In fact there were a lot of rules and truths that just got progressively harder to believe as things got "explained". Like I said, the story was a little out there. And I'm not sure how I feel about that.
But it
was
exciting and boy, did it make me laugh. There pacing was spot on, with a good bit of action throughout. And not only did Ali's best friend Kat provide a steady dose of entertainment but Ali's grandparents were hysterical too! I snort-laughed when her grandmother said 'douche-purse' and when they were grilling the boys Ali took home. There were many moments throughout this book that made me laugh or smile, which is always a plus.
And I finally met the famed Cole Holland! Although he is not really my type - a little too jerk-y for my tastes - I was swooning for him! Ali was swooning so hard that I really couldn't help myself. Every time I read about his tattooed, muscled chest and gorgeous violet eyes, my breath caught a little. And there were some steam-y moments between them. I do think he will grow on me, but don't worry Betty, he is all yours!
So while this book isn't perfect for me, I did enjoy it and I am glad I read it. If you are a zombie person and don't mind books that are a little wild, I'd recommend this one. If you enjoy an exciting story with a good helping of humor, I recommend this one. And if you like brooding men who happen to be gorgeous, I recommend this one!