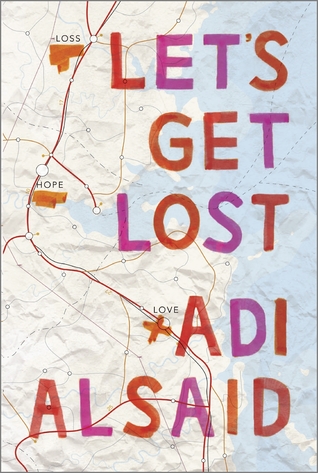 Title:
Let's Get Lost
Author:
Adi Alsaid
Publisher:
Harlequin Teen
Release Date:
July 29, 2014
Pages:
352
Source:
BEA
Summary from Goodreads:
Five strangers. Countless adventures. One epic way to get lost.

Four teens across the country have only one thing in common: a girl named LEILA. She crashes into their lives in her absurdly red car at the moment they need someone the most.

There's HUDSON, a small-town mechanic who is willing to throw away his dreams for true love. And BREE, a runaway who seizes every Tuesday—and a few stolen goods along the way. ELLIOT believes in happy endings…until his own life goes off-script. And SONIA worries that when she lost her boyfriend, she also lost the ability to love.

Hudson, Bree, Elliot and Sonia find a friend in Leila. And when Leila leaves them, their lives are forever changed. But it is during Leila's own 4,268-mile journey that she discovers the most important truth— sometimes, what you need most is right where you started. And maybe the only way to find what you're looking for is to get lost along the way.
Review
What I loved most about Let's Get Lost was the way the story was told. I loved having the stories of 4 strangers - Hudson, Bree, Elliot and Sonia - with Leila being the only constant among them, until Leila's own story was given in the end. I thought it was really interesting meeting Leila this way - seeing her through the eyes of those whose lives she impacted in some way. It made her all the more intriguing and I couldn't wait to have her whole story. But I really enjoyed meeting Hudson, Bree, Elliot and Sonia first - 4 totally different people, with 4 totally different stories. And I loved watching how Leila interacted with each of them, how she helped them. I thought it was all really great.
What I loved second most about Let's Get Lost was the feel of this story - it really appealed to my passion for exploration and my desire to make the most out of each day. Leila's goal was to see the northern lights but she was in no real hurry and so she made a real adventure out of her trip. She was open to meeting new people (obviously) and trying new things, going wherever the road, or life, may take her. She seized every opportunity and you could feel that she was really living. I felt more alive just reading her story and living vicariously through her. It was the cross country road trip you dream of having.
In it's entirety, I found Let's Get Lost to be absolutely delightful. I was pleasantly surprised by how much I enjoyed this book. I thought it was unique, thoughtful, and exciting. Most definitely memorable. Kudos to Mr. Alsaid for such a wonderful debut!