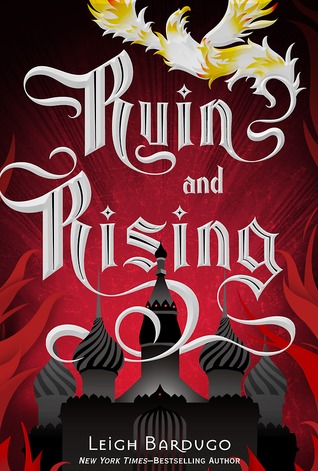 Title:
Ruin & Rising
Series:
The Grisha #3
Author:
Leigh Bardugo
Publisher:
Henry Holt and Co.
Release Date:
June 17, 2014
Pages:
417
Source:
Purchased
Summary from Goodreads:
The capital has fallen.

The Darkling rules Ravka from his shadow throne.

Now the nation's fate rests with a broken Sun Summoner, a disgraced tracker, and the shattered remnants of a once-great magical army.

Deep in an ancient network of tunnels and caverns, a weakened Alina must submit to the dubious protection of the Apparat and the zealots who worship her as a Saint. Yet her plans lie elsewhere, with the hunt for the elusive firebird and the hope that an outlaw prince still survives.

Alina will have to forge new alliances and put aside old rivalries as she and Mal race to find the last of Morozova's amplifiers. But as she begins to unravel the Darkling's secrets, she reveals a past that will forever alter her understanding of the bond they share and the power she wields. The firebird is the one thing that stands between Ravka and destruction—and claiming it could cost Alina the very future she's fighting for.
Review
Over the past three years I have completely fallen in love with these characters and this world that Leigh Bardugo has created. I have had so many smiles and laughs and swoons as well as plenty of well-timed fits and anxiety attacks. I am sad that this series has finally come to an end, but I can't think of a better conclusion for this story. It was wonderful.
When I look back at this series, I'd say Shadow & Bone was more plot-driven, whereas, Siege and Storm was more character-driven. But Ruin & Rising was a nice balance of both. The second half contained much of the action, but I still loved the first half. How could I not when most of it was filled with witty quips from my boyfriend, Nikolai? But really, I love this set of characters so much that I just love spending time with them. They don't have to be battling the Darkling or hunting down one of Morozova's amplifiers to have my attention.
I really think it is a gift when you can love a set of characters so completely as I do with this series.
I think like things ended the way that they should have – for the characters and for Ravka. It was fitting to the story and provided complete closure. Did everything unfold exactly as I would have liked? No, not exactly. I would have preferred Nikolai be in every single scene. But when you love a series so much, a good, strong ending is the best you can ask for. And I was more than satisfied.
I can't recommend this series enough, but I don't think I have to because it's reputation precedes itself. Every book in this series is strong and the story itself is so unique and fun. The characters are perfect. The writing is superb. I really can't say enough positive things about it. If you haven't started this series, or continued with it, I encourage you to do so.