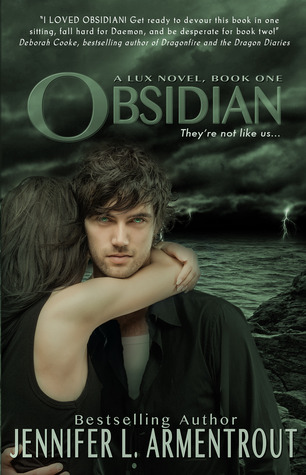 Title:
Obsidian
Author:
Jennifer L. Armentrout
Series:
Lux #1
Publisher:
Entangled Teen
Release Date:
May 8th 2012
Pages:
Paperback, 2nd Edition, 335 pages
Source:
Library
Summary from Goodreads:
Starting over sucks.

When we moved to West Virginia right before my senior year, I'd pretty much resigned myself to thick accents, dodgy internet access, and a whole lot of boring... until I spotted my hot neighbor, with his looming height and eerie green eyes. Things were looking up.

And then he opened his mouth.

Daemon is infuriating. Arrogant. Stab-worthy. We do not get along. At all. But when a stranger attacks me and Daemon literally freezes time with a wave of his hand, well, something... unexpected happens.

The hot alien living next door marks me.

You heard me. Alien. Turns out Daemon and his sister have a galaxy of enemies wanting to steal their abilities, and Daemon's touch has me lit up like the Vegas Strip. The only way I'm getting out of this alive is by sticking close to Daemon until my alien mojo fades.

If I don't kill him first, that is.
Review
I have been very hesitant to read start the Lux series because I have heard such great things I was nervous about the books being over-hyped. I am happy to report that Obsidian was a fantastic alien book, I look forward to finishing the series. I have a couple reservations but the main reason I did not give the book a full 5 stars was that a couple of parts were a bit predictable.
My 5 favorite things about Obsidian
1. Katy is a book blogger. I had no idea that Katy, the main character, was a book blogger so when I read that she was checking her blog comments and writing her Waiting on Wednesday posts I ended up grinning from ear to ear. This is the first book that I have read that has a book blogger. Later in the book she is super excited because she got ARCs in the mail! I thought it was kind of a cool shout out to bloggers :)
" I'd rather read a book and stalk my blog comments"
Oh. Dear. Baby. Jesus. How did he find it? Wait. More importantly was the fact that he had found it. Was my blog now Googleable? That was awesomesauce with an extra heaping of sauce.
2. Bad boy Alien Daemon. Daemon is up there on the list of hot bad boys and man o man is he hot one second and cold the next. He is arrogant, protective, sweet, and a jerk all in the same chapter!
" You look like you got more of a bath than the car. I never thought washing a car would be so hard, but after watching you for the last fifteen minutes, I'm convinced it should be an Olympic sport."
3. Good Aliens vs Evil Aliens. With everything else going on in the story there was still room for a couple crazy battle scenes between the good aliens and the bad aliens. The battle scenes had plenty of unexpected surprises.
4. Crazy sexual tension. The sexual tension between Daemon and Katy if maxed out! Armentrout writing just brings you into the story so you can feel the frustration Katy feels towards Daemon all while waiting them to finally just kiss.
Grinning, he backed down the steps. "I'll see you at noon, Kitten."
"I hate you," I hissed.
" The feeling's mutual." He glanced over his shoulder, "Twenty bucks says you wear a one-piece swimsuit."
He was insufferable.
5.
Well developed relationships and characters.
Both Katy and Daemon are well developed, their characters have history and reasons for acting they way they do. Not only are the both of them great,the friendship between Katy and Dee is sincere. The distant but loving relationship between Katy and her mother is also a nice addition to the book.
Bottom Line
If you want sexual tension, aliens, a bad boy, and an overall good versus evil book that is fast paced and well written than I highly recommend Obsidian. If aliens are not your thing at all, I might avoid this one but you are missing out on a pretty great book.