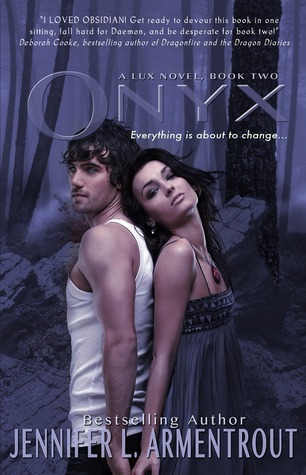 Title:
Onyx
Author:
Jennifer L. Armentrout
Series:
Lux #2
Publisher:
Entangled Teen
Release Date:
August 14th 2012
Pages:
Paperback, 366 pages
Source:
Bought
Summary from Goodreads:
Being connected to Daemon Black sucks…

Thanks to his alien mojo, Daemon's determined to prove what he feels for me is more than a product of our bizarro connection. So I've sworn him off, even though he's running more hot than cold these days. But we've got bigger problems.

Something worse than the Arum has come to town…

The Department of Defense are here. If they ever find out what Daemon can do and that we're linked, I'm a goner. So is he. And there's this new boy in school who's got a secret of his own. He knows what's happened to me and he can help, but to do so, I have to lie to Daemon and stay away from him. Like that's possible. Against all common sense, I'm falling for Daemon. Hard.

But then everything changes…

I've seen someone who shouldn't be alive. And I have to tell Daemon, even though I know he's never going to stop searching until he gets the truth. What happened to his brother? Who betrayed him? And what does the DOD want from them—from me?

No one is who they seem. And not everyone will survive the lies…
Review
Jennifer L. Armentrout has me sold on the Lux series. Even though I was super hesitant to start the series, I am enjoying every minute of it! The banter between Katy and Daemon has me laughing out loud. Every time he is clever and plays to her bookish nature, I just love it. How can you not laugh at the quote below.
"Wanna hear about them? Although, I'm much better at the show part rather than the tell."
"Somehow, I believe you."
"If you didn't, I could always give you a teaser." He paused and I could hear the smile in his voice. " You bookish people love teasers, don't you?"
Onyx picked up right where Obsidian left off, strong tension between characters and crazy bad alien drama. It is a perfect blend of romance and action. Similar to Obsidian, JLA makes references to bloggers/readers that just make me smile. I also really appreciated the surprises in the story, there were a couple of things that I was just not expecting at all and I am really curious how they will play out in the rest of the series. The book gives enough closure while still leaving more for book three.
"You're a terrible liar. You want this. Just as badly as I do."
My mouth opened, but no words came out.
"You want this as badly as you want to go to ALA this winter."
Now my jaw was on the floor. "You don't even know what ALA is!"
Although I really enjoyed Onyx, it was missing a little something. At times the plot could of moved a bit quicker and the story could have progressed more but all in all it was a great book.
Bottom Line
Obsidian is still my favorite so far however Onyx was still a enjoyable, fun read. It is full of sexual tension, evil aliens, and shocking moments. I cannot wait to continue the series and see what develops between Damien and Katy! I highly recommend trying the series as long as you are okay with aliens.