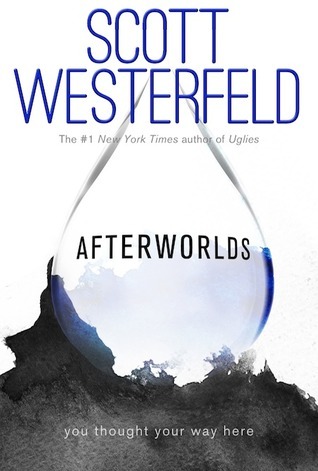 Title:
Afterworlds
Author:
Scott Westerfeld
Publisher:
Simon Pulse
Release Date:
September 23rd 2014
Pages:
Hardcover, 608 pages
Source:
BEA 2014 & Library
Summary from Goodreads:
Darcy Patel has put college and everything else on hold to publish her teen novel, Afterworlds. Arriving in New York with no apartment or friends she wonders whether she's made the right decision until she falls in with a crowd of other seasoned and fledgling writers who take her under their wings…

Told in alternating chapters is Darcy's novel, a suspenseful thriller about Lizzie, a teen who slips into the 'Afterworld' to survive a terrorist attack. But the Afterworld is a place between the living and the dead and as Lizzie drifts between our world and that of the Afterworld, she discovers that many unsolved - and terrifying - stories need to be reconciled. And when a new threat resurfaces, Lizzie learns her special gifts may not be enough to protect those she loves and cares about most.
Review
Not going to lie, the size of Afterworlds is slightly intimidating. I am a bit behind on my reading this year and 608 pages is a good amount of pages. So I was thrilled when the library had the audiobook version! Afterworlds is a mix of two distinct stories that some how just work together.
One of my favorite aspects in Afterworlds was the combination of interesting stories; the premise was unique and different, making it an enjoyable listen/read. The two narrators did a fantastic job; it was easy to tell the difference in story lines and the characters had individual personalities, flaws, and emotions that each narrator brought to light. Darcy's story was full of new beginnings, new experience, and starting off adult life while on the other hand Lizzie's story was full of tragedy, mystery, death, and self-awareness. Lizzie's story is the book that Darcy is writing, so as she discusses the changes she made and plans to make in the future the reader gets to read those changes unfold.
The romance in Lizzie's story was not my favorite, it did not seem very well developed, it felt forced, and was not really necessary. On the flip side, the love story in Darcy's life was cute; it was a new experience for her and it fit the story perfectly. I am rather torn between 3.5 stars and 4 stars; similar to the romance, my interest in the stories ebbed and flowed. There were times when I was not as interested in Lizzie's story but interested in and then a hundred pages later my feelings flip flopped. While the premise is great there are times when I could feel the story drag; the world building and secondary character development was well done yet a points the plot just did moved at a vastly slower pace.
Overall, I would recommend Afterworlds (especially as an audiobook); it was a refreshingly unique read that weaved together two very different story lines.
**If you have read it, did you prefer one story line over the other? Did you like the love interests?**