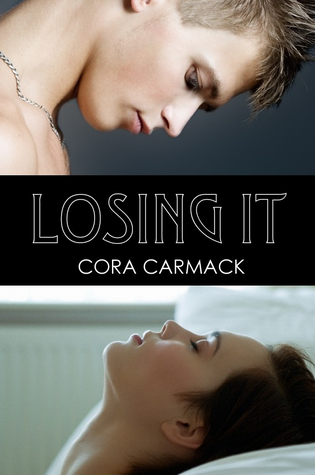 Title:
Losing It
Author:
Cora Carmack
Series:
Losing it #1
Publisher:
HarperCollins
Release Date:
October 15th 2012
Pages:
Ebook, 204 pages
Source:
Library
Summary from Goodreads:
Sick of being the only virgin among her friends, Bliss Edwards decides the best way to deal with the problem is to lose it as quickly and simply as possible - a one-night stand. But her plan turns out to be anything but simple when she freaks out and leaves a gorgeous guy alone and naked in her bed with an excuse that no one with half-a-brain would ever believe. And as if that weren't embarrassing enough, when she arrives for her first class of her last college semester, she recognizes her new theatre professor. She'd left him naked in her bed about 8 hours earlier.
Review
Nicole and I had the pleasure of meeting Cora Carmack at the Baltimore Book Festival. She spoke on a couple panels with other fantastic authors. After hearing the New Adult panel and listening to Cora describe her books I just knew I needed to give them a chance.
Losing It is a perfectly awkward blend of college life and relationships; I was devouring the pages of this fun, lighthearted book! Bliss was starting her last semester of college as a virgin and decided that she needed to change that. From the moment the book started I was grinning; Bliss was such a real, quirky, entertaining character. Here are some of my favorites:
Somewhere between Save by the Bell and Gossip Girl, it became unheard of for a girl to graduate college with her V-card still in hand.
I was terrified I'd melt into a puddle of arousal and awkwardness if I met his gorgeous eyes again.
Was he trashing my place because I'd run out and left him there like the biggest jerk this side of Kanye West at the 2009 VMAs?
Not only was Bliss a fantastic character, Garrick the gorgeous main character who happens to have a British accent was equally as fantastic. The dynamic and chemistry between Bliss and Garrick was radiating off the pages. The romance was funny, real, and sexy all at the same time. Bliss would over analyze situations, she is clumsy, she is a nerd, she gets nervous, she is a relate-able honest character.
The secondary characters are primarily Bliss's theater classmates and friends; each friend fills a different role in the story and supplement the fast paced plot. The ending was satisfying but I was so invested in the characters I just needed more so thank goodness there is a novella!
Overall, I highly recommend Losing It if you are looking for a light-hearted, non-angsty story about an awkward college student that has fabulous inner monologues and funny one liners all while battling the sexual tension she has with her new professor.