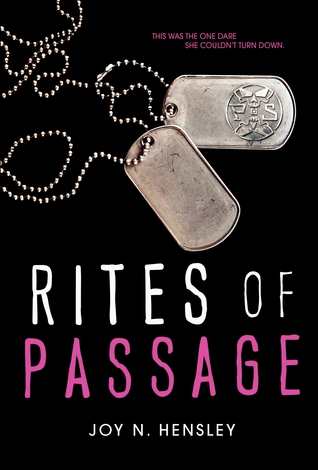 Title:
Rites of Passage
Author:
Joy N. Hensley
Publisher:
Harper Teen
Release Date:
September 9, 2014
Summary from Goodreads:
Sam McKenna's never turned down a dare. And she's not going to start with the last one her brother gave her before he died.

So Sam joins the first-ever class of girls at the prestigious Denmark Military Academy. She's expecting push-ups and long runs, rope climbing and mud-crawling. As a military brat, she can handle an obstacle course just as well as the boys. She's even expecting the hostility she gets from some of the cadets who don't think girls belong there. What she's not expecting is her fiery attraction to her drill sergeant. But dating is strictly forbidden and Sam won't risk her future, or the dare, on something so petty...no matter how much she wants him.

As Sam struggles to prove herself, she discovers that some of the boys don't just want her gone—they will stop at nothing to drive her out. When their petty threats turn to brutal hazing, bleeding into every corner of her life, she realizes they are not acting alone. A decades-old secret society is alive and active… and determined to force her out.
At any cost.

Now time's running short. Sam must decide who she can trust...and choosing the wrong person could have deadly consequences.
Review
Sam is one of only a handful of girls to be the first to attend a previously all boys military academy. No one expects the girls to last long, but many are willing to go to great lengths to make sure that they don't. The plot thickens when it is discovered that those who want them gone the most are part of some very well-connected and powerful secret society on campus, meaning the rules don't really apply to them. Sam is quickly singled out as the hardest to break and is pushed way harder than the other members of her company. Determined not to fail, Sam overcomes every challenge they throw her way but once her enemies realize that extra physical and emotional torment won't deter her, things start to escalate quickly. Fortunately, Sam has some people on her side, but the odds are always so stacked against her that it almost never feels like enough.

Let me just say that this book was INTENSE. Because this is military school and her enemies outrank her, there is very little Sam could do but take the abuse with a "Sir, yes, Sir". As I read, my muscles were clenched and my stomach was in knots as I feared for what Sam would have to endure next. And I was SO ANGRY at SO MANY PEOPLE. Not only was I angry at every sexist, self-important jackass that tried to tear her down but I was also angry at all of the people that should have been on her side but let her down. I think this book set a new record for characters I wanted to punch. But that just means that I was 110% emotionally invested and 200% with Sam every step of the way. Speaking of Sam, she was amazing – a dedicated, strong-willed, good person through and through.

There were two aspects of the ending that didn't go quite the way I had hoped they would. I won't say more to avoid spoilers and I think they are pretty obvious when you read the book. And despite that, I really really enjoyed this one and would definitely recommend it.