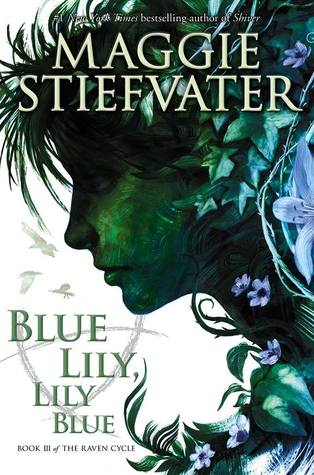 Title:
Blue Lily, Lily Blue
Author:
Maggie Stiefvater
Series:
The Raven Cycle #3
Publisher:
Scholastic Press
Release Date:
October 21, 2014
Source:
I received this ARC from the Publisher in exchange for an honest review (thank you Scholastic!)
Summary from Goodreads:
There is danger in dreaming. But there is even more danger in waking up.

Blue Sargent has found things. For the first time in her life, she has friends she can trust, a group to which she can belong. The Raven Boys have taken her in as one of their own. Their problems have become hers, and her problems have become theirs.

The trick with found things though, is how easily they can be lost.

Friends can betray.
Mothers can disappear.
Visions can mislead.
Certainties can unravel.
Review
In true Maggie Stiefvater fashion, this book was wonderful.

The focus of Blue Lily, Lily Blue aligns more closely to that of the first book, The Raven Boys, than the second book, The Dream Thieves, the later of which was mainly centered around Ronan's story. But do not be fooled by the title, this is not Blue's story; at least, no more than it is the others. In this book, the search for Glendower continues and the gang is closer to finding him than ever before. In fact, there is actual finding going on. We explore Henrietta more deeply and learn more of Glendower's history. I was surprised by some of the developments in this story, but in a good way. And developments there were aplenty. This might be the most dramatic book yet.

Thanks to the addition of a few new characters, the danger is at an all time high. For as much gain that might be had, there is an equal amount of loss. When reading this book, your heart will be at Stiefvater's mercy, and she will stomp on it, a few times. The ending left me gaping.

Stiefvater's books are not fast reads. They are carefully crafted, intricately detailed and definitely character-driven. But since I am in love with these characters and her words, that is completely fine with me. Gansey, Ronan, Adam, Noah, and Blue are at the forefront of the story per usual, but the secondary characters have just as much of a presence. Every single person introduced in this series has been unique, memorable, and three-dimensional. Maggie Stiefvater excels in many things, but her character development might be her best skill. I can feel each and every one of them grow and evolve the more time we spend with them. But it's not just the connection that I have with them that I love so much, it is also the connection they have with each other. The relationships in this book, as complicated as they are, are so unimaginably beautiful. These characters live and breath for each other and it is a palpable thing in this book. And the relationships are constantly reshaping and deepening and I just love watching it happen.

I also loved seeing all of the elements from the first two books come together in this third book. Ronan's skills still have a role to play, while Blue's family is more important than ever. I love that for all the information we have, there is still so much discovery left. And I can only guess at what all of the subtle hints are alluding to.

For those of you who've started this series, I don't think you need much convincing to read this book but I will still promise you that this third installment in the Raven Cycle series is just as good, if not better, than the previous two. For those of you who've read Stiefvater's other work but haven't started this series, I will tell you that I think this might be her best work yet. And for those of you who've never read anything by Maggie Stiefvater, I urge you to remedy that. Her stories are some of the most enjoyable and most distinguishable of any I have ever read. She is a favorite author of mine for sure.

AND LOOK AT THAT COVER. I am going to frame the covers for this series in my home one day. Mark my words.