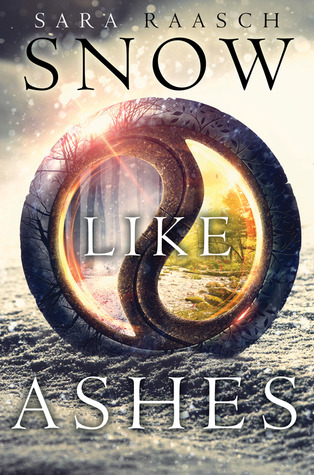 Title:
Snow Like Ashes
Author:
Sara Raasch
Series:
Snow Like Ashes #1
Publisher:
Balzer & Bray
Release Date:
October 14, 2014
Source:
EW (thank you HarperTeen!)
Summary from Goodreads:
A heartbroken girl. A fierce warrior. A hero in the making.

Sixteen years ago the Kingdom of Winter was conquered and its citizens enslaved, leaving them without magic or a monarch. Now, the Winterians' only hope for freedom is the eight survivors who managed to escape, and who have been waiting for the opportunity to steal back Winter's magic and rebuild the kingdom ever since.

Orphaned as an infant during Winter's defeat, Meira has lived her whole life as a refugee, raised by the Winterians' general, Sir. Training to be a warrior—and desperately in love with her best friend, and future king, Mather — she would do anything to help her kingdom rise to power again.

So when scouts discover the location of the ancient locket that can restore Winter's magic, Meira decides to go after it herself. Finally, she's scaling towers, fighting enemy soldiers, and serving her kingdom just as she's always dreamed she would. But the mission doesn't go as planned, and Meira soon finds herself thrust into a world of evil magic and dangerous politics – and ultimately comes to realize that her destiny is not, never has been, her own.
Review
I was a mix of nervous excitement when I started reading Snow Like Ashes due to all of the hype surrounding it. Fantasy is my favorite genre but we all know what happens when our expectations get away from us. And this book didn't immediately blow me away, so it took some time for my anxiety to ebb. Like others, I struggled at first to wrap my head around this new world and its history. But all I can say to those of you who experience the same is to stick with it. The world doesn't take long to settle and the plot quickly takes off. This is the kind of book that keeps getting better and better as your read.
Snow Like Ashes has a lot to offer readers, as all of the positive reviews are confirming. Only 8 Winterians remain from the 25 that originally fled Spring's attack. Through them, you have a story of survival and of revenge. They will stop at nothing to see their people freed and their kingdom restored, while Spring will stop at nothing to see them enslaved or killed. The future looks bleak. They have little to work and are largely at the mercy of other kingdoms who will gladly take advantage of their plight rather than help. But they have no choice left but to fight and to hope. And with this story comes a lot of action and strategizing and a sense of purpose.
Then there is the story of those that have been enslaved, which we get toward the middle of the book, and which broke my heart. We learn first-hand of the cruelty of the Spring ruler and what the people of Winter have endured. These pages were filled with despair, trepidation and hopelessness, but also of reminiscing and a sense of community. Some pieces of their story are part of what I loved most about this book.
Then there is Meira's story. She's one of the 8 who've dedicated their lives to surviving and fighting for Winter. And she's driven by a desperation to mean something to Winter, to make a difference. At first she thinks the only way she can do that is by being a soldier and so she's resistant of all other ways in which she might be helpful. But she grows to look beyond her own wants and, in the end, winds up being more important than she ever could have imagined. Meira is someone I instantly took to as an MC. She is fierce, loyal and strong-willed. And she's got a feisty attitude which I found amusing.
"I fought so long and so hard to be me, to be Meira in all of this. To help Winter in my own unique way - but this isn't about what I want, it's about what Winter needs. It's always been about what Winter needs." - ARC, Chapter 23.
But as good as this book was, it was not perfect. In addition to the world-building issues, there were a few things here and there – like a love triangle – that could have been done better. But this was a very strong debut that speaks to Raasch's potential as an author. I feel like I went on one hell of an adventure, culminating in an epic conclusion. And there were a ton of feels- both happy and sad - that really made for one satisfying experience.
Fantasy lovers, this one is not to be missed!