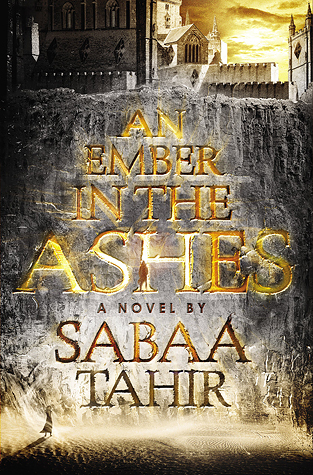 Title:
An Ember in the Ashes
Author:
Sabaa Tahir
Publisher:
Razorbill
Release Date:
April 28, 2015
Source:
Borrowed from Pam at [YA] Escape from Reality (
Thanks Pam!
)
Summary from Goodreads:
Set in a terrifyingly brutal Rome-like world, An Ember in the Ashes is an epic fantasy debut about an orphan fighting for her family and a soldier fighting for his freedom. It's a story that's literally burning to be told.

LAIA is a Scholar living under the iron-fisted rule of the Martial Empire. When her brother is arrested for treason, Laia goes undercover as a slave at the empire's greatest military academy in exchange for assistance from rebel Scholars who claim that they will help to save her brother from execution.

ELIAS is the academy's finest soldier—and secretly, its most unwilling. Elias is considering deserting the military, but before he can, he's ordered to participate in a ruthless contest to choose the next Martial emperor.

When Laia and Elias's paths cross at the academy, they find that their destinies are more intertwined than either could have imagined and that their choices will change the future of the empire itself.
Review
Nothing tickles my bookish fancy more than a new fantasy book that hits all the right spots. I devoured this book and am dying for more which is why this better be a series although I can't seem to find mention of one. Especially after that ending...

An Ember in the Ashes is the story of Laia and Elias, whose journeys start separately but weave more and more closely together as the story continues until they become one in the end.

Laia's story is one of a scared girl masquerading as a rebel masquerading as a maid to a woman who is so cruel that she scares me even though she is fictional. The rebels are pushing her for information but she can barely manage to stay alive and in one piece. I admired her courage and the lengths that she would go to to save her brother. Her strength grew as time progressed and she deserved more credit than she gave herself. I was deeply invested in her well-being.

Elias' story is one of a kind boy masquerading as a killer masquerading as a wannabe-Emperor. Although it is less obvious, he has chains as real as Laia's and desperately wants to be free of them. But he is watched and if he slips-up it will mean his death or worse. So he must play the game and hope he finds salvation in the end. The game takes the form of trials that test his courage, cunning, strength and loyalty. If you know me at all, you know I LOVE trials. They were action-packed and intense and horrible and I ate it up.

This book is dark but I think darkness creates the best stories because every victory is made more meaningful. There was loss in this book, for sure, but there was also gain. I loved the plotting and the cryptic messages and the hidden allies, and the complex characters and the endless threats and the glimpses of good. It had everything.

The ending I mentioned was epic and unexpected and left me begging for more. There were twists that I am scared to see the consequences of but I am overwhelmed with excitement for the (expected) sequel anyway. If you even marginally like Fantasy, you need to read this book. Sabaa Tahir really makes a name for herself with this kick-ass debut!