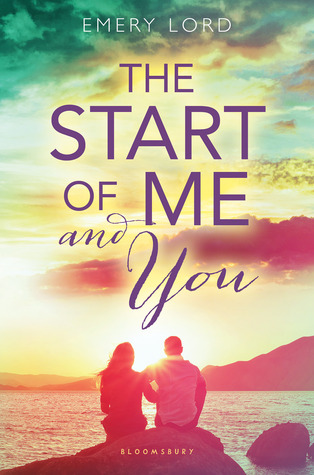 Title:
The Start of Me and You
Author:
Emory Lord
Publisher:
Bloomsbury
Release Date:
March 31, 2015
Source:
ARC provided by the publisher in exchange for an honest review (thanks Bloomsbury!)
Summary from Goodreads:
Brimming with heartfelt relationships and authentic high-school dynamics The Start of Me and You proves that it's never too late for second chances.

It's been a year since it happened—when Paige Hancock's first boyfriend died in an accident. After shutting out the world for two years, Paige is finally ready for a second chance at high school . . . and she has a plan. First: Get her old crush, Ryan Chase, to date her—the perfect way to convince everyone she's back to normal. Next: Join a club—simple, it's high school after all. But when Ryan's sweet, nerdy cousin, Max, moves to town and recruits Paige for the Quiz Bowl team (of all things!) her perfect plan is thrown for a serious loop. Will Paige be able to face her fears and finally open herself up to the life she was meant to live?
Review
I don't know how Emory Lord does it. Her characters are so endearing I just want to stuff them in my pocket to carry around with me, like little pocket pals. With all of their quirks, humility and earnestness, they make me feel a little less alone in the world. And Emory Lord must have the best of friends because she writes the best of friends in her stories. I didn't think it could get better than Dee and Reagan but I LOVED Paige, Tessa, Morgan, and Kayleigh and I could feel how much these girls meant to each other. And don't even get me started on the romance. Max is probably the best human being in the world and puts all other human beings to shame.Their friendship turned romance was just about the best thing ever and the ending killed me. We're talking lots of tears of joy, people, and one hell of an "AWWWWWW" moment.
And there are many more relationships worth mentioning. Like the one with her grandmother, which I loved because I am also incredibly close with my grandmother. And I thought her parents starting to date again after getting divorced was so interesting because I've never read about that particular dynamic before. And all the different relationships with other people at school - like Aaron's best friend, who she shared grief with. They were all heart warming and layered and hopeful. Emory Lord excels at creating meaningful relationships.
As with everything else, the themes in this book were just spot on. I could relate to Paige on so many levels. Her simultaneous fear and desire to start new and redefine herself by stepping outside of her comfort zone. Her increasing enthusiasm as her life started to change for the better. Her sudden realizations that what she thought she might need and what she actually needs might not be the same thing. Her fierce determination to live her life. The growth in this book was incredible, relatable, and so inspiring.
I will forever associate Emory Lord with happiness and love and friendships because her books are the epitome of these things. I feel so much when I read them and am completely smitten by the time I finish. I could not recommend her books enough. If you have a heart, I don't know how you could not love this one. So read it! :)