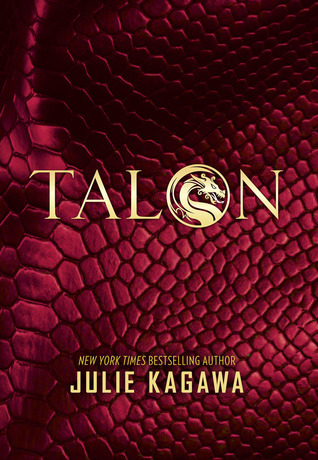 Title:
Talon
Series:
Talon #1
Author:
Julie Kagawa
Publisher:
Harlequin Teen
Release Date:
October 28th 2014
Summary from Goodreads:
Long ago, dragons were hunted to near extinction by the Order of St. George, a legendary society of dragon slayers. Hiding in human form and growing their numbers in secret, the dragons of Talon have become strong and cunning, and they're positioned to take over the world with humans none the wiser.

Ember and Dante Hill are the only sister and brother known to dragonkind. Trained to infiltrate society, Ember wants to live the teen experience and enjoy a summer of freedom before taking her destined place in Talon. But destiny is a matter of perspective, and a rogue dragon will soon challenge everything Ember has been taught. As Ember struggles to accept her future, she and her brother are hunted by the Order of St. George.

Soldier Garret Xavier Sebastian has a mission to seek and destroy all dragons, and Talon's newest recruits in particular. But he cannot kill unless he is certain he has found his prey: and nothing is certain about Ember Hill. Faced with Ember's bravery, confidence and all-too-human desires, Garret begins to question everything that the Order has ingrained in him: and what he might be willing to give up to find the truth about dragons.
Review
Dragons are awesome, fantastic, powerful creatures and I love love reading about them. Talon brings crazy dragon politics and secret societies to the table appealing to not only my love of dragons but also my love of spy-like novels. Talon is the order of the dragons, if you are not part of Talon you are a liability, a rogue, and must die. Talk about some crazy rules and intense spy training.
Ember of course is faced with making a decision between a rogue or the life and brother she has grown to trust. One of my main issues while reading Talon was the predictability of the plot. The romance and some of the developments were easy to guess. Some of the relationships reminded me of other dragon books I have read where essentially the dragon falls in love with dragon hunter.
That being said, I still really enjoyed the book. Even though I had a very strong inclination as to what was coming I thoroughly enjoyed the romance and the dynamic between Ember and her love interest. The romance was cute, I liked the fact that they go on actual dates and their interest grows throughout the story. The alternating point of views and the fast paced plot made Talon a speedy read. This was my first Julie Kagawa book and it won't be my last, I loved her writing. The ending was a cliffhanger yet still very satisfying, leaving me ready for the next book!