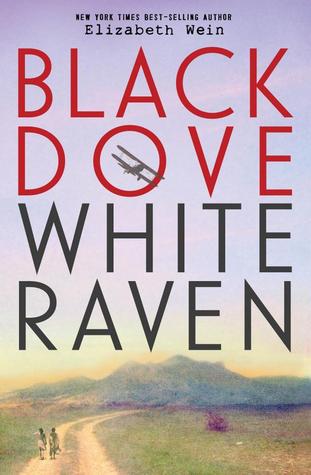 Title:
Black Dove, White Raven
Author:
Elizabeth Wein
Publisher:
Disney-Hyperion
Release Date:
March 31, 2015
Source:
ALA MW
Summary from Goodreads:
Emilia and Teo's lives changed in a fiery, terrifying instant when a bird strike brought down the plane their stunt pilot mothers were flying. Teo's mother died immediately, but Em's survived, determined to raise Teo according to his late mother's wishes-in a place where he won't be discriminated against because of the color of his skin. But in 1930s America, a white woman raising a black adoptive son alongside a white daughter is too often seen as a threat.

Seeking a home where her children won't be held back by ethnicity or gender, Rhoda brings Em and Teo to Ethiopia, and all three fall in love with the beautiful, peaceful country. But that peace is shattered by the threat of war with Italy, and teenage Em and Teo are drawn into the conflict. Will their devotion to their country, its culture and people, and each other be their downfall or their salvation?

In the tradition of her award-winning and bestselling Code Name Verity, Elizabeth Wein brings us another thrilling and deeply affecting novel that explores the bonds of friendship, the resilience of young pilots, and the strength of the human spirit
.
Review
Black Dove, White Raven was a change of pace from Wein's two previous novels, but I found it to be just as impactful, in its own way.

BDWR is the story of Em and Teo and their adventures together. They are inseparable because their mothers were inseparable, until a freak plane crash took Teo's mother, Delia, from them all. After Em's mother, Rhoda, pieces herself back together, she moves Em and Teo to Ethiopia, the birthplace of Teo's father and a place where her children can live free of judgment according to Delia's dream. But what should have been a simple but peaceful life ends up anything but when Italy decides to invade and the country is thrown into war.

BDWR is one of those books that sneaks up on you. What started as the musings of two children, telling their story by way of entries in their school theme books, ends up as a fight for survival, with the story continued through entries in their flight logs. The seriousness of this story escalates with every page. I was charmed in the beginning, because of the innocence with which this story read, but was beyond moved in the end due to the many acts of love, friendship, selflessness, bravery - you name it. Just like with both of Wein's previous novels, I shed tears for these characters and what they had to endure, some of which I never saw coming and completely broke my heart.

Em and Teo are going to stay with me for a long time, for who they are as individuals and as a team. They were good and true and loyal and they deserved the world. I loved how they drew strength from their alter egos, Black Dove and White Raven, when their world started crumbling around them. I loved how they put each other first, stood by one another, and knew exactly what the other was thinking. I loved their determination to stay together, driven by shear force of will. Everything about them warmed my heart.

Part of the what got my attention while reading this book is that it was historical fiction unlike any I have ever read. I know next to nothing about Ethiopia or its history so almost everything in this book was new to me. It was eye-opening, to say the least.

Oh, and did I mention that Wein's writing is beautiful? Well you may have gathered that already...

I will forever and always recommend Elizabeth Wein's books. Every single one has left a mark on me. Her stories are relevant. Her words are powerful. Her characters are inspiring. Bottom line, she is brilliant.