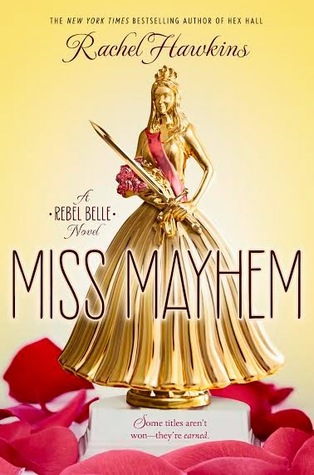 Title:
Miss Mayhem
Author:
Rachel Hawkins
Series:
Rebel Belle #2
Publisher:
Putnam Juvenile
Release Date:
April 7, 2015
Summary from Goodreads:
Life is almost back to normal for Harper Price. The Ephors have been silent after their deadly attack at Cotillion months ago, and best friend Bee has returned after a mysterious disappearance. Now Harper can return her focus to the important things in life: school, canoodling with David, her nemesis-turned-ward-slash-boyfie, and even competing in the Miss Pine Grove pageant.

Unfortunately, supernatural chores are never done. The Ephors have decided they'd rather train David than kill him. The catch: Harper has to come along for the ride, but she can't stay David's Paladin unless she undergoes an ancient trial that will either kill her . . . or connect her to David for life.
Review
Last year I was pleasantly surprised by how much I loved Rebel Belle. I mean, I had SO MUCH FUN reading it and was completely smitten by the end. I got an absolute kick out of Harper, shipped her and David so hard, thought the whole Paladin-Oracle-Mage thing was exciting, and was blown away by the ending. Suffice it to say, I could barely contain my excitement over reading the sequel. But Miss Mayhem did not quite live up to my expectations. I am still enjoying the story but I was way less charmed this time around...
The shock-factor at the end of Rebel Belle didn't quite carry through to the beginning of Miss Mayhem but it was still a fast-paced, drama-filled sequel. Harper learns that she must complete three trials to prove herself as David's Paladin, which is the main focus of the story. That, and lots of romance troubles all around - Harper and David, Bee and Brandon, Ryan and Mary Beth, Bee and Ryan – it was enough to make my head spin and remind me of why I am glad HS is over. I definitely missed the back and forth between Harper and David now that that whole dynamic has changed but I missed Harper's peppiness even more so. Her personality was consistent but didn't really shine through the pages like it did in Rebel Belle. I guess the tone of this book was more somber in general. The ending was also a little anticlimactic, if you ask me, and I still have a lot of questions about this world which haven't been answered yet. Those are my only misgivings.
So although Miss Mayhem lacked the same charisma that Rebel Belle delivered and was a little too High School for me, I still found it to be an exciting read and am loving all of the personality in this series, which I can always expect from Rachel Hawkins. Miss Mayhem might not have packed all of the feels but I am still very much invested in this story and can't wait for the third book.