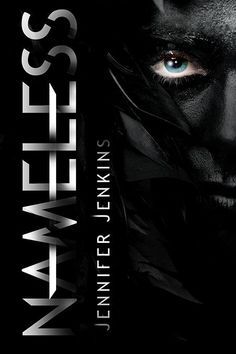 Title:
Nameless
Author:
Jennifer Jenkins
Series:
Nameless #1
Publisher:
Month9Books
Release Date:
October 6, 2015
Summary from Goodreads:
Four clans have been at war for centuries: the Kodiak, the Raven, the Wolf and the Ram. Through brutal war tactics, the Ram have dominated the region, inflicting death and destruction on their neighbors.

Seventeen-year-old Zo is a Wolf and a Healer who volunteers to infiltrate the Ram as a spy on behalf of the allied clans. She offers herself as a Ram slave, joining the people who are called the "nameless." Hers is a suicide mission – Zo's despair after losing her parents in a Ram raid has left her seeking both revenge and an end to her own misery. But after her younger sister follows her into Rams Gate, Zo must find a way to survive her dangerous mission and keep her sister safe.

What she doesn't expect to find is the friendship of a young Ram whose life she saves, the confusing feelings she develops for a Ram soldier, and an underground nameless insurrection. Zo learns that revenge, loyalty and love are more complicated than she ever imagined in the first installment of this two-book series.
Review
Nameless was everything I could ask for in a book. The world was well-developed and interesting. The characters were complex and had strong development arcs. The relationships – both platonic and romantic – were well-crafted and oh so heartwarming. And the plot was fast-paced and full of surprises. I am so impressed by this debut and am surprised it hasn't received more attention. This is a must read, my friends!
In an attempt to gain information that might give her Wolf clan an advantage in the unending war against the Ram, Zo willingly gives herself over to the enemy, under the guise of a refugee from another clan, to become a Nameless slave. However, her plan goes awry from the start when her sister follows her to the gates and is taken as well. Now Zo can't easily sacrifice herself because her sister's fate is tied to her own. I easily rooted for Zo as she tried to outsmart the Rams and stay off their radar. She was extremely smart and capable but her bold personality, compassionate nature and striking looks couldn't help but draw attention. She was quick to make enemies of several influential Ram, to the detriment of those around her, but to her surprise, she was quick to make friends and allies as well.
I love a behind-enemy-lines-type of story – the high stakes and constant strategizing always make for a fun read. And I especially love a pair of star-crossed lovers. Nameless could not have done either more justice. I loved the complicated relationships in this book so much and how two enemies began to see each other in a new light. It was a slow process to overcome a lifetime of ingrained hate but made for some great and thought-provoking reading material. There is also so much that happens within and outside the Ram camp as the war continues and dissent between the Ram and Nameless people rises but I don't want to give anything away. Just know that this book is full and satisfying and heart-wrenching and hopeful and more.
I honestly can't say enough positive things about Nameless. I absolutely loved it! So much so, that Clanless has become one of my most anticipated 2016 reads. It's well worth a read!