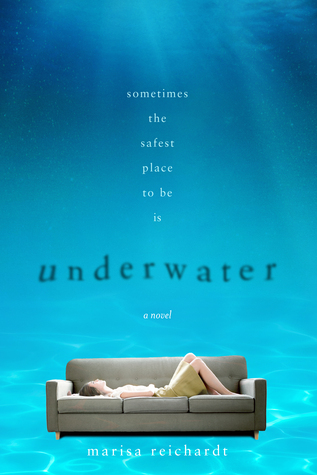 Title:
Underwater
Author:
Marisa Reichardt
Publisher:
Farrar, Straus, & Giroux
Release Date:
January 12, 2016
Source:
eARC provided by Publisher in exchange for an honest review (
thanks Macmillan!
)
Summary from Goodreads:
Morgan didn't mean to do anything wrong that day. Actually, she meant to do something right. But her kind act inadvertently played a role in a deadly tragedy. In order to move on, Morgan must learn to forgive—first someone who did something that might be unforgivable, and then, herself.
But Morgan can't move on. She can't even move beyond the front door of the apartment she shares with her mother and little brother. Morgan feels like she's underwater, unable to surface. Unable to see her friends. Unable to go to school.
When it seems Morgan can't hold her breath any longer, a new boy moves in next door. Evan reminds her of the salty ocean air and the rush she used to get from swimming. He might be just what she needs to help her reconnect with the world outside.
Underwater is a powerful, hopeful debut novel about redemption, recovery, and finding the strength it takes to face your past and move on.
Review
We all take for granted so many things in our daily lives and oftentimes we don't realize what we had until we've lost it. But what if it's the feeling of safety that is lost? I can't imagine what it must feel like to survive a deadly tragedy and I especially can't imagine what it must feel like to believe you could have prevented it. For these reasons and more, I always find novels that deal with the aftermath of tragedy to be eye-opening. Underwater was no exception.
In Underwater, we are introduced to a girl name Morgan who is afraid to leave her apartment. We don't know why at first, other than that she survived some tragedy at her High School, but slowly as the story progresses we learn the details of what happened that fateful day. There was so much about Morgan's story that was well done – the slow and steady unveiling of details, the emotional turmoil taking place within Morgan, and the role that each member of her support circle played in her road to recovery. I thought she had a wonderful family (minus her Dad) and I especially loved her eccentric psychiatrist Brenda. And speaking of her Dad, I loved that the author made a point of stating that sometimes we are afraid to show our loved ones how far we've fallen and that is what causes some people to pull away rather than ask for help. This is so true.
However, the one thing that kept this book from getting a higher rating from me was the romance. Unfortunately, I did not see what was so appealing about Evan. Morgan and Evan didn't share that many moments, and those that they did share weren't very "aww" inducing for me to believe in their connection. And I needed to believe in their connection to understand why Evan would motivate Morgan to conquer her fears and why Evan would be patient with Morgan while she did so. I know it's not fair to compare books but Underwater reminded me of Finding Audrey and it didn't hold the same amount of feels for me. But I still liked it!
But again, Morgan's story was very compelling and I can understand why this book is getting such positive reviews. It was a quick and impactful read that deals with a subject that is pretty relevant to what's going on in the world today. And it also packs some pretty important messages about PTSD and forgiveness and grief and more.