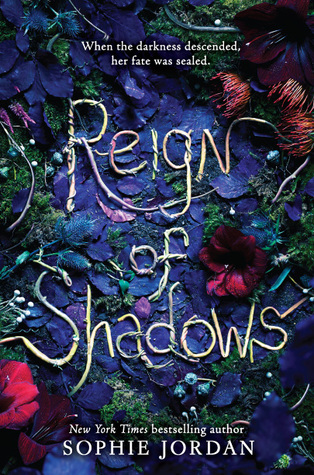 Title:
Reign of Shadows
Author:
Sophie Jordan
Series:
Reign of Shadows #1
Publisher:
HarperTeen
Release Date:
February 9, 2016
Summary from Goodreads:
Seventeen years ago, an eclipse cloaked the kingdom of Relhok in perpetual darkness. In the chaos, an evil chancellor murdered the king and queen and seized their throne. Luna, Relhok's lost princess, has been hiding in a tower ever since. Luna's survival depends on the world believing she is dead.

But that doesn't stop Luna from wanting more. When she meets Fowler, a mysterious archer braving the woods outside her tower, Luna is drawn to him despite the risk. When the tower is attacked, Luna and Fowler escape together. But this world of darkness is more treacherous than Luna ever realized.

With every threat stacked against them, Luna and Fowler find solace in each other. But with secrets still unspoken between them, falling in love might be their most dangerous journey yet.
Review
I always enjoy Sophie Jordan's books but Reign of Shadows may be my favorite one yet!
First and foremost, I loved our main characters and the dynamic between them. Luna, our female lead, has what many people would consider a handicap. I won't say what it is so that y'all can learn the truth when you are meant to, but nevertheless, she doesn't let it slow her down and I loved her all the more for it. She is incredibly capable and is not one to be underestimated. She could be a little naïve at times but she has lived a sheltered life so I didn't fault her for it. Then there is Fowler who has little to no compassion left to spare on others after years of surviving on his own and witnessing the ugly truths of the world. But Luna slowly chips away at the ice around his heart and brings back his true nature. And my god if I didn't love every single second of their relationship. At first it was all playful teasing on Luna's part and cold indifference on Fowler's part but when it switched to his point of view we could tell he was falling for her. And he was fiercely protective of her from the beginning despite how frequently he told himself he didn't care. Basically, I loved them together and shipped them so freaking hard.
And then this world, holy smokes! Sometimes when I'm reading a fantasy with a strong heroine I kid myself by thinking I would be as strong and brave if I were in her shoes but hellllll noooo would I want to live in this world and if I did, I would happily stay in my tower and never go outside. No way am I venturing through a world without sunlight with creepy man-eating monsters, crazy desperate people and god knows what else. This world gave me the creeps but I was effectively glued to the pages as Luna and Fowler ventured through it.
Now I do have some questions about this world. For example, there is no explanation given for the Dwellers which, in a way, is a huge plot hole, but I am hoping this information comes in the sequel. I also don't know how plausible some of Luna's abilities are and what the hell I'm supposed to think about that ending. But none of this hindered my enjoyment of this story in the slightest. I am only bringing it up so that some of you pickier readers out there have a heads up! All in all, I thought this story was very addictive and I'm so excited to read the sequel!