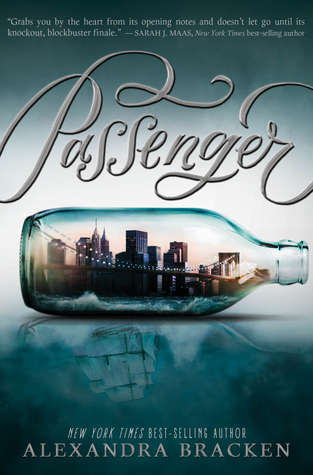 Title:
Passenger
Author:
Alexandra Bracken
Series:
Passenger #1
Publisher:
Disney-Hyperion
Release Date:
January 5, 2016
Summary from Goodreads:
passage, n.
i. A brief section of music composed of a series of notes and flourishes.
ii. A journey by water; a voyage.
iii. The transition from one place to another, across space and time.
In one devastating night, violin prodigy Etta Spencer loses everything she knows and loves. Thrust into an unfamiliar world by a stranger with a dangerous agenda, Etta is certain of only one thing: she has traveled not just miles but years from home. And she's inherited a legacy she knows nothing about from a family whose existence she's never heard of. Until now.

Nicholas Carter is content with his life at sea, free from the Ironwoods—a powerful family in the colonies—and the servitude he's known at their hands. But with the arrival of an unusual passenger on his ship comes the insistent pull of the past that he can't escape and the family that won't let him go so easily. Now the Ironwoods are searching for a stolen object of untold value, one they believe only Etta, Nicholas' passenger, can find. In order to protect her, he must ensure she brings it back to them— whether she wants to or not.

Together, Etta and Nicholas embark on a perilous journey across centuries and continents, piecing together clues left behind by the traveler who will do anything to keep the object out of the Ironwoods' grasp. But as they get closer to the truth of their search, and the deadly game the Ironwoods are play­ing, treacherous forces threaten to sep­arate Etta not only from Nicholas but from her path home . . . forever
Review
This book was long and yet I devoured it. There was something about this weave through history with lives, worlds, and time hanging in the balance that I couldn't get enough of.
In the middle of her violin performance at the Met, Etta is forced back through time and finds herself on a Pirate ship… in 1776. In quick succession she finds out that she can time travel and that the matriarch of the family has a mission for her, whether she likes it or not. She is tasked with finding an object of great importance and to do so she must follow encrypted clues left behind by another traveler. Her journey is dangerous and many are out to manipulate her, deceive her, or outright harm her to have the object for themselves. I loved the excitement and adventure of it all.
I also loved the complicated relationship between Etta and Nicholas, her companion for most of the journey. There was an obvious magnetism between these two characters yet they resisted the pull since a future for them seemed all but impossible. Resistance was futile though. It was hard watching the two of them fall deeper knowing Nicholas' intentions might not be pure. It was downright torture waiting to see what he would do (even though I had a gut feeling). Because my god if he wasn't so damn romantic. Some of the things that came out of his mouth - they just don't make them like that anymore. Honestly, the execution of their relationship arc was brilliant. Possibly one of my favorites ever. I ship these two hard.
I am a little obsessed with history and historical places so having the privilege of traveling through different cities and time periods was an absolute joy. And the incorporation of solving clues was just icing on the cake. So much about this book was to my liking. I can't say enough positive things. I still have some questions that I am hoping are answered in the second book but for the most part, Bracken painted a solid picture of this world and how the time traveling works.
Alexandra Bracken has proven how talented she is time and time again. I've read her books out of order but looking back I can see that she is honing her talent with each new release. I am definitely a fan of hers and recommend any of her books. I can't wait to read the next one!