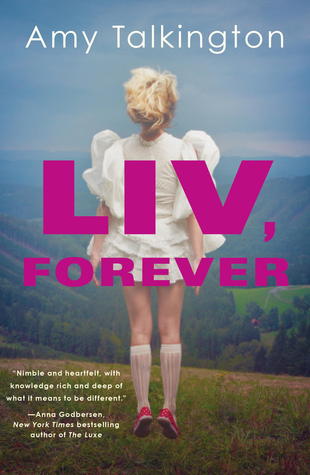 Title:
Liv, Forever
Author:
Amy Talkington
Publisher:
Soho Teen
Release Date:
March 11, 2014
Format:
Audiobook
Summary from Goodreads:
When Liv Bloom lands an art scholarship at Wickham Hall, it's her ticket out of the foster system. Liv isn't sure what to make of the school's weird traditions and rituals, but she couldn't be happier. For the first time ever, she has her own studio, her own supply of paints. Everything she could want.

Then she meets Malcolm Astor, a legacy student, a fellow artist, and the one person who's ever been able to melt her defenses. Liv's only friend at Wickham, fellow scholarship kid Gabe Nichols, warns her not to get involved, but life is finally going Liv's way, and all she wants to do is enjoy the ride.

But Liv's bliss is doomed. Weeks after arriving, she is viciously murdered and, in death, she discovers that she's the latest victim of a dark conspiracy that has claimed many lives. Cursed with the ability to see the many ghosts on Wickham's campus, Gabe is now Liv's only link to the world of the living. To Malcolm.

Together, Liv, Gabe, and Malcolm fight to expose the terrible truth that haunts the halls of Wickham. But Liv must fight alone to come to grips with the ultimate star-crossed love.
Review
Once every decade since Wickham Hall was founded a girl dies and her ghost is trapped to roam the grounds forever. Liv is the school's latest victim. But fortunately for her, her friend Gabe can see and hear her. After soliciting the help of Malcolm, the love interest/golden boy, the three of them set out to discover why girls are being murdered, why their deaths are being covered up, and how they can stop it. Meanwhile, Liv must come to accept the fact that she is dead and also that her and Malcolm can never have their happy ending.
The ghosts were my favorite part of this story. Every few chapters we are introduced to a new ghost and are given the story of their death. Every ghost was unique and memorable. And Since they were killed a decade apart, their personal stories had a very period feel to them, which I loved. I think the mystery surrounding their deaths was half decent, although I suspect some of you will guess the end ahead of time and I do still have a few questions. I also think the old boarding school with its history and prestige was the perfect setting. It was a place that I could see being haunted and having such a conspiracy.
But one thing kept me from really enjoying this book and that was the romance. I wasn't convinced by Liv and Malcolm's feelings for each other at all. They spent barely any time together while Liv was alive but somehow they "connected". So much so that they claimed a deep love for each other throughout the book. It just felt a little ridiculous and not at all substantiated. Like, a pretty bad case of instalove which I just couldn't look past and was constantly reminded of. For this too have worked it needed a lot more attention in the beginning than it was given.
The premise of Liv, Forever was solid but the execution was only half way there. I think if you can overlook the instalove and get behind this ship, and if you enjoy a good ghost mystery or a boarding school setting, then you will like this one.