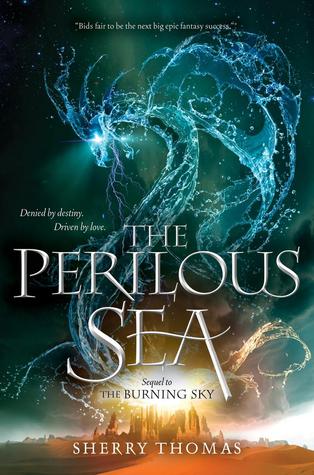 Title:
The Perilous Sea
Author:
Sherry Thomas
Series:
The Elemental Trilogy #2
Publisher:
Balzer + Bray
Release Date:
September 16, 2014
Pages:
414
Source:
ARC, Gifted from April @
Good Books and Good Wine
Summary from Goodreads:
A
fter spending the summer away from each other, Titus and Iolanthe (still disguised as Archer Fairfax) are eager to return to Eton College to resume their training to fight the Bane. Although no longer bound to Titus by a blood oath, Iolanthe is more committed than ever to fulfilling her destiny—especially with the agents of Atlantis quickly closing in.

Soon after arriving at school, though, Titus makes a shocking discovery, one that makes him question everything he previously believed about their mission. Faced with this devastating realization, Iolanthe is forced to come to terms with her new role, while Titus must choose between following his mother's prophecies—and forging a divergent path to an unknowable future.
Review
The Perilous Sea was every bit as wonderful as The Burning Sky.
Every bit as action packed -
with magic and adventure
epic battles and chases and boyhood shenanigans.
Every bit as surprising -
with plot twists and turns aplenty
new worlds, new friends, and old friends returned.
Every bit as suspenseful -
with close calls and uncertain futures
forgotten identities, mistaken identities and new reveals
Every bit as swoony -
with cute lines and cute moments
new love, old love, and love redefined.
Every bit as full -
with growth and all the feels
energetic beginning, powerful middle, and heart-stopping end.
I recommend The Perilous Sea every bit as much as The Burning Sky.
Bottom Line
Reading The Perilous Sea, I grew to love this world, these characters, and this story even more than I already did. The Perilous Sea expanded on these elements in ways I never would have expected but couldn't get enough of. This book brought all the feels and I have to thank Sherry Thomas for giving me the pleasure of watching my two favorites fall in love all over again. It was genius and took the perfection that was this book to a whole new level. This series is a must read my friends.
A heartfelt thank you to April from Good Books and Good Wine for gifting me her ARC.