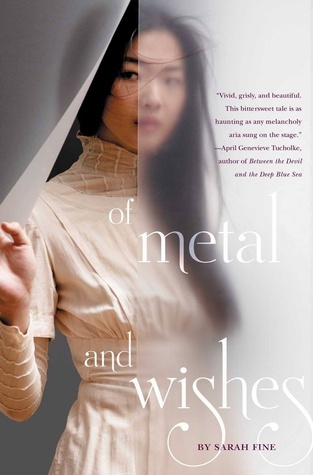 Title:
Of Metal and Wishes
Author:
Sarah Fine
Series:
Of Metal and Wishes #1
Publisher:
Margaret K. McElderry Books
Release Date:
August 5, 2014
Pages:
320
Source:
Purchased
Summary from Goodreads:
There are whispers of a ghost in the slaughterhouse where sixteen-year-old Wen assists her father in his medical clinic—a ghost who grants wishes to those who need them most. When one of the Noor, men hired as cheap factory labor, humiliates Wen, she makes an impulsive wish of her own, and the Ghost grants it. Brutally.

Guilt-ridden, Wen befriends the Noor, including their outspoken leader, a young man named Melik. At the same time, she is lured by the mystery of the Ghost and learns he has been watching her … for a very long time.

As deadly accidents fuel tensions within the factory, Wen must confront her growing feelings for Melik, who is enraged at the sadistic factory bosses and the prejudice faced by his people at the hand of Wen's, and her need to appease the Ghost, who is determined to protect her against any threat—real or imagined. She must decide whom she can trust, because as her heart is torn, the factory is exploding around her … and she might go down with it.
Review
Phantom of the Opera is one of my favorite stories and to have one of my favorite authors retell it in such a magnificent and unique way is like a bookish dream come true. I am not sure I can find the right words to describe how dazzling this book was.
As the synopsis says, Of Metal and Wishes takes place in a slaughterhouse. A slaughterhouse that is haunted by the ghost of a boy long believed dead. A ghost that sometimes grants wishes, and happens to favor Wen. This is probably where the parallel to The Phantom of the Opera ends. Sarah Fine works her magic from here.
The Noor have just arrived to work at the factory and tensions rise between them and the Itanyai, who believe themselves to be superior. Accidents, illness, fights and riots befall Gochan One as the Itanyai blame the Noor for all of their problems. As the situation worsens, Wen finds herself torn between her people and the Noor whom she grows more and more fond of, especially their leader Melik. But what role does the Ghost play in all of this? For he will do anything to protect Wen...
Sarah Fine excels in all things storytelling–related. She once again proved her brilliance with this world that she created, which was both vivid and layered and felt like a genre all of its own with gothic, fantasy, steampunk elements and more. Her characters were as wonderful as always - diverse, likable, complex, selfless. I grew to care for Wen, her father, the Ghost and the Noor. And the romance. *sigh* Sarah Fine knows all the right strings to pull. The story itself was suspenseful, haunting, imaginative, and elaborate. I couldn't get read fast enough. And the ending was great. In typical Sarah Fine fashion it was a little brutal, a little hopeful, and a whole lot dramatic.
Sarah Fine is 3 for 3 in my book. Her Guards of the Shadowlands series is one of the best series to come into my life and I am just as in awe of and in love with Of Metal and Wishes. I am now convinced that I will love everything she writes. She is extremely talented and I will champion her work all day, every day.
Hell yes, I recommend this book. It was perfection.