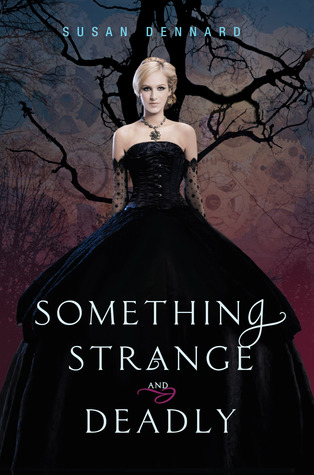 Title:
Something Strange and Deadly
Series:
Something Strange and Deadly #1
Author:
Susan Dennard
Publisher:
HarperTeen
Release Date:
July 24th 2012
Pages:
Hardcover, 388 pages
Source:
Library
Summary from Goodreads:
There's something strange and deadly loose in Philadelphia...

Eleanor Fitt has a lot to worry about. Her brother has gone missing, her family as fallen on hard times, and her mother is determined to marry her off to any rich young man who walkers by. But this is nothing compared to what she's just read in the newspaper—

The Dead are rising in Philadelphia.

And then, in a frightening attack, a zombie delivers a letter to Eleanor... from her brother.

Whoever is controlling the Dead army has taken her brother as well. If Eleanor is going to find him, she'll have to venture into the lab of the notorious Spirit-Hunters, who protect the city from supernatural forces. But as Eleanor spends more time with the Spirit-Hunters, including the maddeningly stubborn yet handsome Daniel, the situation becomes dire. An now, not only is her reputation on the line, but her very life may hang in the balance.
Review
Since the last book in the series recently came out, I decided to start the series. I was hesitant knowing it was a book about zombies; super gore-y zombies are not my thing yet I did really enjoy The Forest of Hands and Teeth so I figured I would give this one a chance.

The main complaint I had was the pacing, I felt that the story could drag at times; I could easily get distracted while reading, it just was not always capturing my attention. I definitely recommend reading it in larger chunks or at once. My reading experience improved when I really immersed myself and had the time to get into the story for more than half an hour. My last issue, while it is not a huge complaint, the story was entertaining yet it left no resonating sentiment or lasting feelings.

On the flip side, I loved the steampunk aspects of the story; the unique technology mixed with a creepy paranormal Philadelphia was incredibly easy to visualize. The romance took a backseat for most of the story and never overshadowed the action and mystery. Eleanor and Daniel have some fantastic banter and a building tension. Along with the romance, I applauded the characters building; each character had a their own personality and back story. Eleanor comes from an elite family that is on its way out of the high society circle, while Daniel and the team of Spirit Hunters has a colorful background fulled with lies, crimes, and necromancy. I look forward to reading the rest of the series and seeing what the Spirit Hunters have to battle.
Bottom Line
Something Strange and Deadly is a zombie filled, dark and spooky steam punk story that blends mystery, the paranormal, and high society drama. I recommend it if you are looking for a different kind of zombie book with an interesting team of characters, descriptive gothic setting and a strong female lead.