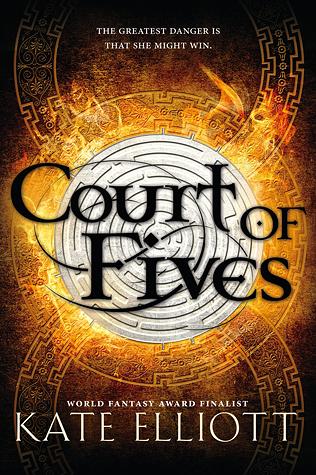 Title:
Court of Fives
Author:
Kate Elliott
Series:
Court of Fives #1
Publisher:
Little Brown Books for Young Readers
Release Date:
August 18, 2015
Source:
eARC provided by Publisher in exchange or an honest review (
thanks Little Brown!!
)
Summary from Goodreads:
In this imaginative escape into an enthralling new world, World Fantasy Award finalist Kate Elliott begins a new trilogy with her debut young adult novel, weaving an epic story of a girl struggling to do what she loves in a society suffocated by rules of class and privilege.
Jessamy's life is a balance between acting like an upper class Patron and dreaming of the freedom of the Commoners. But at night she can be whomever she wants when she sneaks out to train for The Fives, an intricate, multi-level athletic competition that offers a chance for glory to the kingdom's best competitors. Then Jes meets Kalliarkos, and an unlikely friendship between a girl of mixed race and a Patron boy causes heads to turn. When a scheming lord tears Jes's family apart, she'll have to test Kal's loyalty and risk the vengeance of a powerful clan to save her mother and sisters from certain death.
Review
Court of Fives was not quite the book I expected it to be and still, it completely pulled me in.
I was enraptured by Jessamy's home life - her father ran a tight ship to avoid bringing attention to his Commoner wife and mixed-blood children in a world where blood and status meant everything. I was enraged by some of his decisions and their ramifications on Jessamy and her family. I was disgusted by the world in which Jessamy lived in and how cruel the upper class Patrons could be, one in particular. I was energized by Jessamy's skill in the Fives games and thrilled at her chance to shine. I was both wary and hopeful of her relationship with Kalliarkos and surprised by his behavior towards Jessamy and her family. I was shocked by that ending and wickedly delighted for what that means for the story. I am restless for the next book.
The exploration into this world and the characters that Jessamy is up against was intoxicating. Elliot's writing had me RIGHT THERE with Jessamy so many times and I was in a constant state of fear and awe. This world is DARK and DANGEROUS but if anyone can take it on it is Jessamy. And there is the promise of SO MUCH MORE. And the characters are so grey - I don't know what to make of them. There are so many places Elliott can take this story - as she already showed us in this first installment. It was a wonderful start to a new series.
Basically, I am captivated by both these characters and this world and I can't ask for a better place to be after reading the first book in a new series. For those of you who like intricate fantasies, then this is a must read!