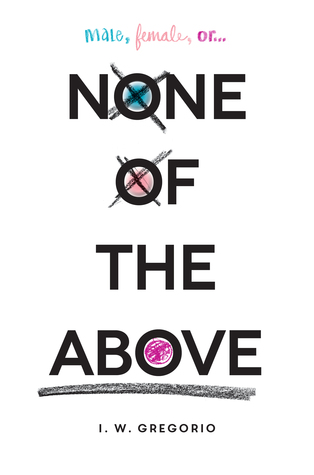 Title:
None of the Above
Author:
I.W. Gregorio
Publisher:
Balzer + Bray
Release Date:
April 7th 2015
Source:
BEA 2015
Summary from Goodreads:
A groundbreaking story about a teenage girl who discovers she was born intersex... and what happens when her secret is revealed to the entire school. Incredibly compelling and sensitively told, None of the Above is a thought-provoking novel that explores what it means to be a boy, a girl, or something in between.
What if everything you knew about yourself changed in an instant?
When Kristin Lattimer is voted homecoming queen, it seems like another piece of her ideal life has fallen into place. She's a champion hurdler with a full scholarship to college and she's madly in love with her boyfriend. In fact, she's decided that she's ready to take things to the next level with him.
But Kristin's first time isn't the perfect moment she's planned—something is very wrong. A visit to the doctor reveals the truth: Kristin is intersex, which means that though she outwardly looks like a girl, she has male chromosomes, not to mention boy "parts."
Dealing with her body is difficult enough, but when her diagnosis is leaked to the whole school, Kristin's entire identity is thrown into question. As her world unravels, can she come to terms with her new self?
Review
I am not going to lie, I skipped over this book at first; I had a copy in my hands and then decided against it. Fast forward a couple of months and I kept noticing how well received it was and how many readers were loving it. So I made it one of my high priority books to get at BEA; I was very curious to see what None of the Above had to offer.
The writing and the story immediately grabbed my focus and never let go. I was so unaware and oblivious to AIS and intersex, I felt like my eyes were opened while reading this book. I, not only, could completely feel the feelings but I felt more educated and aware. I have never had any exposure to AIS, so I really knew nothing at all going into the book. While that aspect of the story was new to me, it was impossible to be unaware of the emotional response that comes from being bullied. Goodness, did I just want to reach out and hug Kristin. The bullying and straight up mean kids really just made me reflect on how tough Kristin was forced to be and challenging it must be to go through her situation. The characters felt so honest and real, it was easy to picture an exact scenario unfolding in high school.
None of the Above is a noteworthy, important and honest read. I highly recommend it and will push the book onto anyone :) Not only is it informative, None of the Above has fantastic character development, honest and believable feelings, cute romance, and conquers tough subjects!