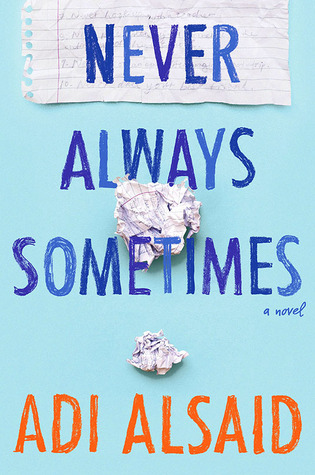 Title:
Never Always Sometimes
Author:
Adi Alsaid
Publisher:
Harlequin Teen
Release Date:
August 4, 2015
Source:
BEA15 & NASArcHop
Summary from Goodreads:
Never date your best friend.

Always be original.

Sometimes rules are meant to be broken.

Best friends Dave and Julia were determined to never be cliché high school kids—the ones who sit at the same lunch table every day, dissecting the drama from homeroom and plotting their campaigns for prom king and queen. They even wrote their own Never List of everything they vowed they'd never, ever do in high school.

Some of the rules have been easy to follow, like #5, never die your hair a color of the rainbow, or #7, never hook up with a teacher. But Dave has a secret: he's broken rule #8, never pine silently after someone for the entirety of high school. It's either that or break rule #10, never date your best friend. Dave has loved Julia for as long as he can remember.

Julia is beautiful, wild and impetuous. So when she suggests they do every Never on the list, Dave is happy to play along. He even dyes his hair an unfortunate shade of green. It starts as a joke, but then a funny thing happens: Dave and Julia discover that by skipping the clichés, they've actually been missing out on high school. And maybe even on love.
Review
Never Always Sometimes is not a book that is going to work for everyone, but it is one that (mostly) worked for me. It is a very realistic portrayal of unspoken affection and bad timing and I will always applaud and appreciate those kinds of stories even if they are difficult to read and don't always lead to a happy ending. I thought it was extremely brave, honest and well-done on Adi Alsaid's part.
I really liked Dave and Julia, flaws and all. They were fundamentally good people, even if they didn't always make the right choices. I think we can all relate to that. And they had a familiarity with each other and easy banter that I just LOVED. The humor in this book was right up my ally. They were also the type of best friends that spent all of their time together and blocked out the rest of the world. So when they decide to complete their Nevers list it was if they were letting the rest of the world in, and subsequently discovering it for themselves for the very first time.
I love storylines that are centered around completing lists and so I had fun with this premise. Naturally, it led to all kinds of internal and external discovery and I really enjoyed watching these characters grow. There is something about Adi Alsaid's writing, or perhaps his perspective, that just mesmerizes me. It's like he sees people and situations differently, and in turn, makes me see people and situations differently.
My only real problem with the story was #7 on the Nevers list - never hook up with a teacher - and Julia's attempts to cross it off. Although she was mostly joking around, I thought she took things too far and it just made me extremely uncomfortable and sympathetic towards the teacher. Although I will admit that the jokes, and the slam poetry poem, were quite hilarious. This didn't go on forever, and that is why it didn't impact my reading experience too drastically but it was there, and it was unwelcome.
I obviously can't go into details about the ending, but this is where most people are going to be divided. The way things played out was not according to "HEA rules". It was messy and unfortunate and definitely not OK. Many readers are going to be frustrated with Dave, as was I, but don't forget to hold Julia accountable for her part in all of it too. That being said, I understood it. I think the way both Dave and Julia acted was very realistic, especially for teenagers. And I think it took a certain amount of courage for these characters to own up to their actions, try to right the wrong as much as possible, and, when things didn't go as hoped, move forward. I wouldn't want every story to end this way, but I applaud the honesty because frankly, sometimes life isn't always perfect. But you usually get second chance and it's what you make of them.