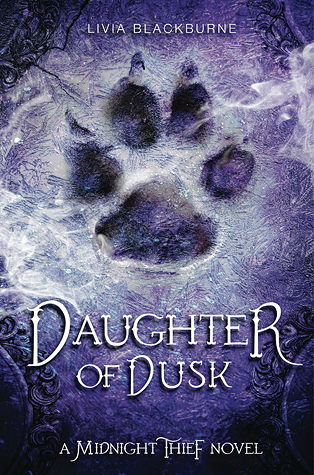 Title:
Daughter of Dusk
Author:
Livia Blackburne
Series:
Midnight Thief #2
Publisher:
Disney-Hyperion
Release Date:
August 4, 2015
Source:
eARC provided by Publisher in exchange or an honest review (
thanks Disney-Hyperion!!
)
Summary from Goodreads:
After learning the truth about her bloodlines, Kyra can't help but feel like a monster.

Though she's formed a tentative alliance with the Palace, Kyra must keep her identity a secret or risk being hunted like the rest of her Demon Rider kin. Tristam and the imprisoned assassin James are among the few who know about her heritage, but when Tristam reveals a heartbreaking secret of his own, Kyra's not sure she can trust him. And with James's fate in the hands of the palace, Kyra fears that he will give her away to save himself.

As tensions rise within Forge's Council, and vicious Demon Rider attacks continue in surrounding villages, Kyra knows she must do something to save her city. But she walks a dangerous line between opposing armies: will she be able to use her link to the Demon Riders for good, or will her Makvani blood prove to be deadly?

In this spellbinding sequel to Midnight Thief, Kyra and Tristam face their biggest battle yet as they grapple with changing allegiances, shocking deceit, and vengeful opponents.
Review
When I first read Midnight Thief, I marveled to you all how FULL it was. SO MUCH happened in that book to introduce us to a brilliant world and cast of characters. It was well-balanced with action, mystery, and romance and all around well-written, especially for a debut novel. It was one of my biggest surprises last year with how much I enjoyed it. So it is with great enthusiasm that I am now telling you how similarly wonderful Daughter of Dusk is.
In Daughter of Dusk, Kyra finds herself divided between the people and city she grew up with and the Demon Riders, who her blood calls to. As war threatens to break out between the two, Kyra struggles to protect everyone she cares for. One of her most defining features is her overly large heart and she goes on this remarkable journey to accept that there are just certain lines that she's not willing to cross. Watching her find a way to fight while staying true to herself was amazing. Her actions were so commendable and she is just such a likable character.
I loved the politics at play in this book. There was an obvious power struggle between the members of the council and I was surprised by quite a few developments. The entire situation in Forge was a fascinating one to watch unfold and I never knew which direction the story would take. I also loved learning more about Kyra's heritage, which is further revealed in this book. This is another area in which Kyra grew tremendously and needed to learn to accept herself. There was a new relationship that emerged that had an interesting dynamic and I am pleased with where it left off.
The romance definitely has a stronger presence in Daughter of Dusk. It is not without some angst and it got pretty complicated at times but that could be expected due to each of their circumstances. I still shipped it and I LOVED the ending. I also loved the greater exploration into the secondary characters, particularly Flick who got a little romance of his own.
This book and this duology at large have pretty much everything one would hope to find in a story. It's exciting, thoughtful, unpredictable, and unique.There is a wonderful cast of characters with so much growth and Kyra herself is particularly badass herself. I definitely recommend it!