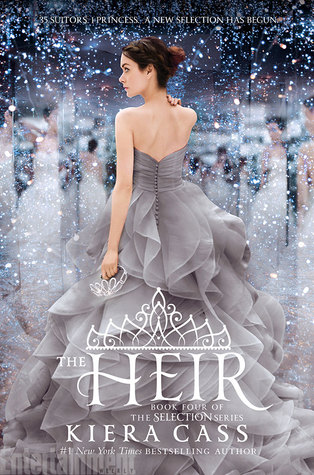 Title:
The Heir
Series:
The Selection #4
Author:
Kiera Cass
Publisher:
Harper Teen
Release Date:
May 5th 2015
Source:
Purchased
Summary from Goodreads:
Twenty years ago, America Singer entered the Selection and won Prince Maxon's heart. Now the time has come for Princess Eadlyn to hold a Selection of her own. Eadlyn doesn't expect her Selection to be anything like her parents' fairy-tale love story. But as the competition begins, she may discover that finding her own happily ever after isn't as impossible as she always thought.
Review
The Selection series is a bit of a guilty pleasure reading for me. I am aware of some of the series' faults, and yet, they do not seem to detract from my overall entertainment wile reading. So I will caveat the review by saying, if you have not enjoyed the series thus far, then The Heir is also probably not for you. I also listened to The Heir's audiobook which I found to be very well done.
The Heir starts off a little different. Spoiler alert - it's about America and Maxon's daughter, Eadlyn. Not going to lie, Eadlyn is not my favorite character but I do appreciate that it seems to be intentional. She is self-centered, bratty, whiny, and closed-off. But as the story progresses she starts to change her ways and slowly becomes a bit less of a brat and a bit more likeable. She does make mistakes and while on the one hand I wanted to shake some sense into her, on the other hand, I gave credit to her being a real, sometimes stubborn teenager. I do love the relationship she has with her brothers and parents, it is full of love and annoyance; it all felt very honest.
Similar to the previous books in the series, there is a secondary kind of behind the scenes plot line about the state of the country. While the caste system is no longer in state, the people of Illea are not happy. Aside from that, the plot focuses mainly on Eadlyn and the contestants. The Heir was entertaining; I enjoyed listening to all the dates and the drama among the contestants. At this point I have favorites but I am still undecided. There are a good variety of good matches and potential winners. I am unsure of who will actually win her heart but I do believe there will be a slight twist in the following book.
My biggest reservation was the cliffhanger ending, the book just ends. I will for sure read the last book but I do wish this one did not end so abruptly. Overall I found The Heir to be a light fun read that transports the reader back into the crazy world of Illea and into more Selection dramas!