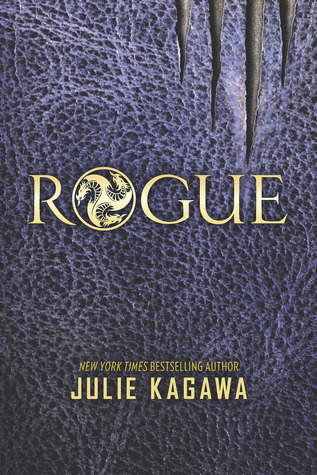 Title:
Rogue
Series:
Talon #2
Author:
Julie Kagawa
Publisher:
Harlequin Teen
Release Date:
April 28th 2015
Source:
Library
Summary from Goodreads:
Ember Hill left the dragon organization Talon to take her chances with rebel dragon Cobalt and his crew of rogues. But Ember can't forget the sacrifice made for her by the human boy who could have killed her—Garret Xavier Sebastian, a soldier of the dragonslaying Order of St. George, the boy who saved her from a Talon assassin, knowing that by doing so, he'd signed his own death warrant.

Determined to save Garret from execution, Ember must convince Cobalt to help her break into the Order's headquarters. With assassins after them and Ember's own brother helping Talon with the hunt, the rogues find an unexpected ally in Garret and a new perspective on the underground battle between Talon and St. George.

A reckoning is brewing and the secrets hidden by both sides are shocking and deadly. Soon Ember must decide: Should she retreat to fight another day…or start an all-out war?
Review
Rogue is a fantastic sequel; I actually believe it is stronger than Talon. The plot is more action driven, the team is on the run, and there are risks and danger at every turn. Rogue, similar to Talon, is told from multiple points of views. In this case, I think it allows the reader to see all three sides of the dragon world spectrum, Talon, rogues, and dragon hunters. We learn what Dante, Ember's brother is up to in Talon, and hear some of his planning with the secret organization. The reader gets glimpses into Cobalt and Garret's thoughts and well as, Ember scattered thoughts and feelings. The audio version has multiple narrators so the transition between POVs was very easy to follow.
Even though action and adventure were the driving force of the plot, there was still a good bit of romance. I am not a fan of the love triangle, as always, at the moment my team is losing. Luckily a lot of the love triangle-ness of the story comes out in the latter half of the book. It does linger throughout the story but really takes over the plot at the end of the book.
Rogue builds on the various plot lines and turns them into a tangled web of intricate deception and lies. The background history, fight scenes and overall fast moving plot makes Rogue a great sequel. I look forward to the rest of the series!