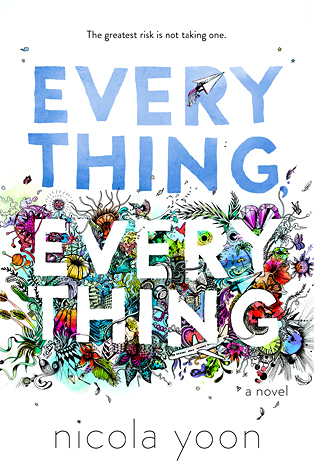 Title:
Everything, Everything
Author:
Nicola Yoon
Publisher:
Delacorte Books for Young Readers
Release Date:
September 1, 2015
Source:
BEA
Summary from Goodreads:
This innovative, heartfelt debut novel tells the story of a girl who's literally allergic to the outside world. When a new family moves in next door, she begins a complicated romance that challenges everything she's ever known. The narrative unfolds via vignettes, diary entries, texts, charts, lists, illustrations, and more.

My disease is as rare as it is famous. Basically, I'm allergic to the world. I don't leave my house, have not left my house in seventeen years. The only people I ever see are my mom and my nurse, Carla.

But then one day, a moving truck arrives next door. I look out my window, and I see him. He's tall, lean and wearing all black—black T-shirt, black jeans, black sneakers, and a black knit cap that covers his hair completely. He catches me looking and stares at me. I stare right back. His name is Olly.

Maybe we can't predict the future, but we can predict some things. For example, I am certainly going to fall in love with Olly. It's almost certainly going to be a disaster.
Review
This book was an absolute delight to read. Wow.
First off, Maddy is a bundle of joy. I know that phrase is more often used to describe babies and puppies but Maddy is like both a baby and a puppy so it works. She's been diagnosed with a rare disease that keeps her locked away from the world but she doesn't dwell on what she can't have. She makes the most of what she does. But then the new boy next door catches her eye and she catches his. What begins as a friendship formed through late night IM conversations quickly escalates into something more. And suddenly Maddy finds herself desperate to live, even if it means she could die. Her courage, hope, love, innocence, joy, and determination just shone through the pages of this book as she enters the world to be with Olly. My heart was in my throat as I watched her experience everything for the first time knowing what could be right around the corner.
And ohmygod if Olly isn't the cutest/sweetest/funniest/most charming boy ever. Our first real glimpse into his personality is through a series of staged Bundt Cake suicide attempts and there was no going back for me. Their conversations were effortless and adorable and it was impossible not to root for them. And he had his own issues that he'd rather not talk about so he didn't pry into Maddy's. He treated her with care and it was obvious he'd go the extra mile for her but he didn't pity or baby her. Basically he stole my heart and I loved every second of their relationship.
And on top of all that, this story is complemented with several illustrations that never failed to put a huge smile on my face. I would have loved this book regardless but this was just the icing on the cake. I am a complete sucker for illustrations.
You might be thinking how this book could possibly have a happy ending. I sure was while I was reading. All I will say is, don't worry, Nicola Yoon knows what she's doing. This book was brilliant. It made me smile. It made me laugh. It made me tear up. It made my blush. It made me hope. It's a must read for sure.