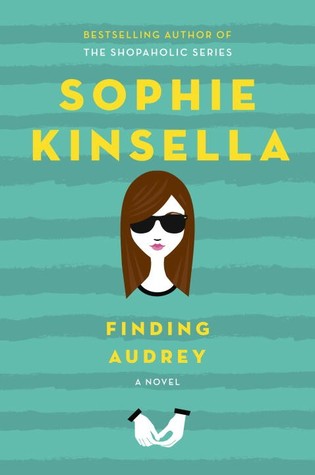 Title:
Finding Audrey
Author:
Sophie Kinsella
Publisher:
Delacorte Books for Young Readers
Release Date:
June 9, 2015
Source:
BEA15
Summary from Goodreads:
From the #1 New York Times bestselling author of the Shopaholic series comes a terrific blend of comedy, romance, and psychological recovery in a contemporary YA novel sure to inspire and entertain.

An anxiety disorder disrupts fourteen-year-old Audrey's daily life. She has been making slow but steady progress with Dr. Sarah, but when Audrey meets Linus, her brother's gaming teammate, she is energized. She connects with him. Audrey can talk through her fears with Linus in a way she's never been able to do with anyone before. As their friendship deepens and her recovery gains momentum, a sweet romantic connection develops, one that helps not just Audrey but also her entire family.
Review
I was pleasantly surprised by how much I enjoyed Finding Audrey. Like, I REALLY liked it. So much so, that I read it in one day because I just couldn't put it down. Despite the serious subject matter, I found this book to be both uplifting and positive. So much about it was well-done.
I have no experience with anxiety disorders so I can't say whether or not Audrey's struggles are an accurate portrayal of what one might go through. But I finished this book with more of an understanding of what it might be like than I had before I started, and to me, that awareness is important. My heart couldn't help but go out to Audrey who was a genuinely good, and easily likable person who just wanted to get back to her 100%. I found myself deeply invested in her well-being and her road to recovery felt very honest to me. And I LOVED the message about how we all have ups and downs, forward progress and setbacks. Such an important reminder to have!
Someone that played a significant role in Audrey's recovery was her brother's friend Linus who I am a HUGE fan of. He was patient and encouraging with Audrey and my heart melted into a puddle of goop with everything that he did for her. And this boy did some REALLY CUTE things. He wrote her notes and challenged her to talk to strangers, doing so himself and starting the most ridiculous conversations. He made her feel comfortable but also pushed her to move forward and it was just so sweet and perfect. If only there were more people like Linus in the world…
I also loved the family dynamics in Finding Audrey. Audrey's mother was fixated on Audrey's brother's obsession with video games to the point that she went to extreme measures to keep him from playing them (like throwing his computer out of a window). This focus on Audrey's brother took some of the pressure off Audrey and also provided some additional comic relief. But just the way in which this family interacted with one another was a joy to watch.
So I pretty much liked everything about this book. It was serious, yet light, and all around endearing. The perfect mix if you ask me! I will definitely be reading more Sophie Kinsella in the future!