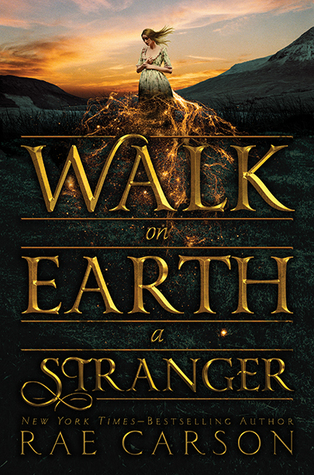 Title:
Walk on Earth a Stranger
Author:
Rae Carson
Series:
The Gold Seer Trilogy #1
Publisher:
Greenwillow Books
Release Date:
September 22, 2015
Source:
eARC provided by publisher in exchange for an honest review (
thanks HarperCollins!
)
Summary from Goodreads:
The first book in a new trilogy from acclaimed New York Times bestselling author Rae Carson. A young woman with the magical ability to sense the presence of gold must flee her home, taking her on a sweeping and dangerous journey across Gold Rush–era America.

Lee Westfall has a secret. She can sense the presence of gold in the world around her. Veins deep beneath the earth, pebbles in the river, nuggets dug up from the forest floor. The buzz of gold means warmth and life and home—until everything is ripped away by a man who wants to control her. Left with nothing, Lee disguises herself as a boy and takes to the trail across the country. Gold was discovered in California, and where else could such a magical girl find herself, find safety? Rae Carson, author of the acclaimed Girl of Fire and Thorns trilogy, dazzles with this new fantasy that subverts both our own history and familiar fantasy tropes.
Review
Walk on Earth a Stranger was every bit as amazing as the synopsis promises.
Leah's character was the first thing to pull me into the story. She's another extremely capable and selfless young heroine who was easy to like. When we first meet her, she's off hunting to feed her family and her deeds only get more impressive as the story progresses. When her parents are murdered, she's forced to flee her home and decides to meet up with her childhood friend going west to California to seek Gold. She disguises herself as a boy so as not to attract attention and she keeps up the ruse for most of the book. I always love when girls pretend to be boys (and do it well) so I thought this part of the story was fun. She didn't fool everyone but for the most part, she was damn convincing.
I'm usually not a big fan of road trip books but this one worked for me. I think the Oregon Trial and Gold Rush era backdrop helped a lot with that. I've never read a book with this setting before so it was both new and exciting. There was a steady stream of events related to Leah's journey that helped keep my attention although I will note that none were really related to her ability. Although her magic has a steady presence in the book and does come into play once or twice, it wasn't really explored or utilized in the way I would have expected. This is something that I hope we get in the second book (and expect we will). But nevertheless, I enjoyed reading about the trials that Leah and her group did face. It was definitely enlightening to see what conditions on the trail might have been like and what people had to overcome in the pursuit of gold. I always loved glimpses into the past.
There wasn't a whole lot of romance in this book, which is fine with me, but I wanted to make note of it for you romance fans. Leah does have a love interest but she assumes his interest lies elsewhere and so, if anything, it's a source of angst for her until the miscommunication is cleared up. But either way, their relationship wasn't a strong focus. I believe that will change though in the second book so romance to come!
I am definitely looking forward to the sequel. I think this book did a good job of setting up the characters and the world but still leaves a lot more to be desired. I can't wait to see what Rae Carson has in store for us. This is definitely a worthwhile read!