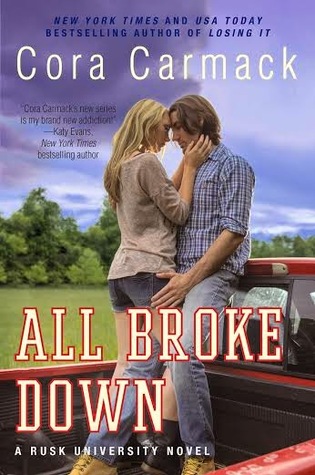 Title:
All Broke Down
Author:
Cora Carmack
Publisher:
William Morrow Paperbacks
Release Date:
October 28th 2014
Source:
Bought
Summary from Goodreads:
In this second book in New York Times and USA Today bestselling author Cora Carmack s New Adult, Texas-set Rusk University series, which began with All Lined Up, a young woman discovers that you can't only fight for what you believe in... sometimes you have to fight for what you love.

Dylan fights for lost causes. Probably because she used to be one.

Environmental issues, civil rights, corrupt corporations, and politicians you name it, she's probably been involved in a protest. When her latest cause lands her in jail overnight, she meets Silas Moore. He's in for a different kind of fighting. And though he's arrogant and infuriating, she can't help being fascinated with him. Yet another lost cause.

Football and trouble are the only things that have ever come naturally to Silas. And it's trouble that lands him in a cell next to do-gooder Dylan. He's met girls like her before fixers, he calls them, desperate to heal the damage and make him into their ideal boyfriend. But he doesn't think he's broken, and he definitely doesn't need a girlfriend trying to change him. Until, that is, his anger issues and rash decisions threaten the only thing he really cares about: his spot on the Rusk University football team. Dylan might just be the perfect girl to help.

Because Silas Moore needs some fixing after all.
Review
It is no surprise that I loved this book after really enjoying All Lined Up. Holy steamy book, All Broke Down is by far the steamiest of Carmack's book. Similiar to book one, football plays a role in the story but in such a way that it truly adds to the character's backstory. I am by no means a huge football fan but I thoroughly enjoyed the team dynamics between the guys. The blend of friendship, competition, and romance makes for a perfect sexy summer read. Those sexy scenes took me by surprise but I was all for the kicking it up notch.
This story focuses on Silas, who was not a favorite in book one but this bad boy for sure forced me to have a change of heart. The chemistry and raw emotions between Dylan and Silas felt honest. Dylan carries some family issues with her while Silas has almost the complete opposite upbringing; they face struggles but are still able to communicate and make it work. This book is just as strong, if not stronger than book one. Even though the story standalone, the previously introduced characters play smaller but great supporting roles.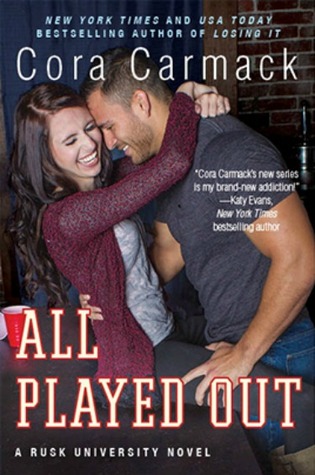 Title:
All Played Out
Author:
Cora Carmack
Publisher:
William Morrow Paperbacks
Release Date:
Source:
Bought
Summary from Goodreads:
First person in her family to go to college? CHECK.
Straight A's? CHECK.
On track to graduate early? CHECK.
Social life? …..yeah, about that….

With just a few weeks until she graduates, Antonella DeLuca's beginning to worry that maybe she hasn't had the full college experience. (Okay... Scratch that. She knows she hasn't had the full college experience).

So Nell does what a smart, dedicated girl like herself does best. She makes a "to do" list of normal college activities.

Item #1? Hook up with a jock.

Rusk University wide receiver Mateo Torres practically wrote the playbook for normal college living. When he's not on the field, he excels at partying, girls, and more partying. As long as he keeps things light and easy, it's impossible to get hurt... again. But something about the quiet, shy, sexy-as-hell Nell gets under his skin, and when he learns about her list, he makes it his mission to help her complete it.

Torres is the definition of confident (And sexy. And wild), and he opens up a side of Nell that she's never known. But as they begin to check off each crazy, exciting, normal item, Nell finds that her frivolous list leads to something more serious than she bargained for. And while Torres is used to taking risks on the field, he has to decide if he's willing to take the chance when it's more than just a game.

Together they will have to decide if what they have is just part of the experiment or a chance at something real.
Review
"The future is never just one choice. It's a thousand. And they never stop. You will choose your future every day of your life. And should you wake up one day to find that you regret the choice you made the day before, then you make a new one."
All Played Out hands down is my favorite book in the series so far. This one is not quite as steamy as All Broke Down but I felt more of a connection with Nell. Nell is a smart, nerdy, goal driven individual that would rather dive face first into her school work than get distracted by other things. Nell decides she needs to change her ways and makes a to-do list to really 'experience' college. Lucky her, a super attractive football player has taken it upon him to help her complete her college bucket list. Torres reminded me of a large teddy bear; he is sweet but also a protector.
One of my favorite aspects of the book is that the secondary characters continue to play roles throughout the entire series. Nell becomes friends with the other girls and starts to expand her horizons and truly feel like she is growing and living. I believe college is not only a educational experience but also a social experience. It is not the easier to open up and try new things, I find it awesome that Nell decide to take on new challenges.
If I were to recommend one new adult series, hands down it would be this series. The romance is a perfect amount of steamy, the characters have different histories and are well developed, and the plot is fast paced, not too heavy, and fun!