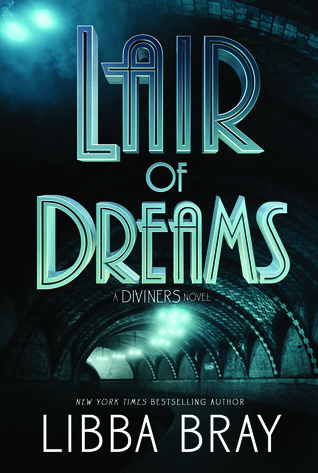 Title:
Lair of Dreams
Author:
Libba Bray
Series:
The Diviners #2
Publisher:
Little, Brown Books for Young Readers
Release Date:
August 25, 2015
Source:
BEA
Summary from Goodreads:
After a supernatural showdown with a serial killer, Evie O'Neill has outed herself as a Diviner. Now that the world knows of her ability to "read" objects, and therefore, read the past, she has become a media darling, earning the title, "America's Sweetheart Seer." But not everyone is so accepting of the Diviners' abilities...

Meanwhile, mysterious deaths have been turning up in the city, victims of an unknown sleeping sickness. Can the Diviners descend into the dreamworld and catch a killer?
Review
When I first read The Diviners, I was blown away by the atmosphere and storytelling. I feel in love with 1920s New York City. Naughty John gave me nightmares (still does). And I couldn't get enough of Evie and her antics. It was an instant favorite of mine with very few books even coming close and that is why I have waited with bated breath for this sequel. To give you an idea of how much I've been wanting to read this book, I actually cried when I got an ARC at BEA. Dreams became reality for me that day. But seeing as I loved it, it was well worth the wait (and tears) and I would happily (albeit anxiously) wait another 3 years for the next book if it can be this good (but I hope I won't have to). For the record, there will be 4 books.
One of the first things to pull me into The Diviners, and later Lair of Dreams, was the setting. Libba Bray makes 1920s New York City come alive and it is magical. It is also the perfect setting for this story – that time period and that city was filled with so much life, death, hope and uncertainty. It was a time of change and a place where anything was possible. And Libba Bray captured this feeling and exploited it perfectly. I loved this mix of Historical Fiction, Paranormal and Thriller. It was brilliant.
In The Diviners we are introduced to a wonderfully vibrant cast of characters. Evie, who I've already mentioned, is one of the most memorable and entertaining characters I've ever met, even after 3 years and so many books later. She was a bit selfish in this book but I still adore her. She has to share the spotlight with a few others – Theta, Jericho, Sam, and Memphis to name a few. And that list only grows bigger in Lair of Dreams when we add Henry and Ling to the mix. But I never felt overwhelmed by the amount of POVs present. And I cared about every single perspective I read. All of these characters were wonderful and had a story to tell, which tied together seamlessly. I think that is another testament to Libba Bray's talent.
We might have left Naughty John behind in The Diviners but Libba Bray gives us plenty of new monsters to fear in Lair of Dreams. The way Bray introduced the Sleeping Sickness that slowly swept through New York City was just as horrifying and creepy, maybe even more so because it could get to anyone. There is also a new player in the game – The King of Crows – that will surely play a bigger role in future books. And we also learn about a secret government organization that has something to do with The Diviners, Evie's Uncle and Sam's mother. I really felt the story expand in this sequel and I am excited to see what unfolds in the next two books.
For complete transparency, there was a bit of a love triangle in this book. In fact, many of the relationships are quite messy and complicated. But since it wasn't a large focus of the book, I didn't mind.
If you thought The Diviners was a monster of a book, Lair of Dreams tops it by about 100 pages. But don't let the size of these books deter you from reading them. They are so , so good and no amount of words will do them justice. I don't know if I can say that Lair of Dreams is BETTER than the Diviners but they are both so far above your average book that it's not fair to compare them to each other. I also recommend the audiobooks because January LaVoy is dazzling. But I don't care what format you choose, just read this series!!!