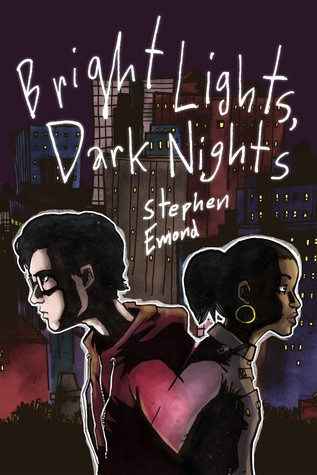 Title:
Bright Lights, Dark Nights
Author:
Stephen Emond
Publisher:
Roaring Brook Press
Release Date:
August 11th 2015
Source:
ARC from Publisher (
thanks Macmillan!!)
Summary from Goodreads:
A story about first love, first fights, and finding yourself in a messed up world, from the acclaimed author of Happyface.

Walter Wilcox has never been in love. That is, until he meets Naomi, and sparks, and clever jokes, fly. But when his cop dad is caught in a racial profiling scandal, Walter and Naomi, who is African American, are called out at school, home, and online. Can their bond (and mutual love of the Foo Fighters) keep them together?

With black-and-white illustrations throughout and a heartfelt, humorous voice, Bright Lights, Dark Nights authentically captures just how tough first love can be...and why it's worth fighting for.
Well written, provoking and current
Bright Lights, Dark Nights is a strong contemporary book that focuses on the friendships and relationships of a group of high-school students. Walter, a police officer's son, lives in a rougher part of the city and attends a more diverse school. A major theme of the book is race. Walter wants to date one of his friend's younger sisters who happens to be black. (Walter is white). Not only does his friend not approve of their relationship but neither do kids from school or even Walter's family. To complicate things even further, a law enforcement issue evolves as well that also focuses on race.
The book does contain very well done black and white sketches painting the city and various scenes. While the pictures were a nice addition, I felt they did not push the story forward or really impact my reading experience, which was a bit disappointing. Bright Lights, Dark Nights addresses a very controversial and current racial issue. The author does an excellent job of incorporating both the social media and the news's role in that racial issue. Personally, even though I thought the story was well written, the characters had a lot of depth to them, they felt like true high schoolers, and the romance felt young and real; the overall mood and theme played a larger part than I enjoyed.
The book reminded me so much of current news stories, focusing heavily on race and its role with law enforcement. After finishing the book, I just felt heavy. All that being said, do not let that deter you! If you are in the mood for a deeper looking into a young man's life as he faces racism, first love, and family struggles, Bright Lights, Dark Nights is well worth the read.