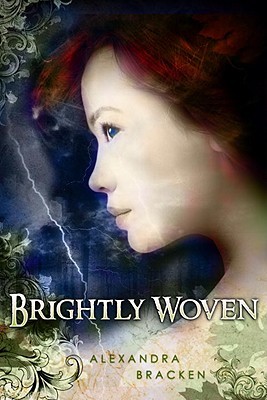 Title:
Brightly Woven
Author:
Alexandra Bracken
Publisher:
Egmont
Release Date:
March 23, 2010
Summary from Goodreads:
The day the rains came was like any other, blistering air coating the canyon in a heavy stillness....

Just as the rains come after ten long, dry years, a young wizard, Wayland North, appears, to whisk Sydelle Mirabil away from her desert village. North needs an assistant, and Sydelle is eager to see the country - and to join him on his quest to stop the war that surely will destroy her home. But North has secrets - about himself, about why he chose Sydelle, about his real reasons for the journey. What does he want from her? And why does North's sworn enemy seem fascinated by Sydelle himself?

Through a journey that spans a country, magic and hard-won romance are woven together with precision and brilliant design by a first-time novelist.
Review
Brightly Woven has all the markings of a strong Fantasy novel. The plot is well-constructed, with layers upon layers that are revealed with each new chapter read. There is a likable heroine, a mysterious Wizard, and the always-fun hate-to-love romance between the two. An enemy evil wizard that is pretty damn difficult to kill contributes action and suspense throughout the story. And all of this is set against a kingdom-on-the-brink-of-war backdrop, with a new queen forced to make difficult decisions. It was easy to stay entertained, especially with all the work trying to puzzle out North's intentions.
However, Brightly Woven also had many signs of a debut novel. Most of the story could have been better fleshed out, most notably the romance between North and Sydelle. The hate turned to love a little too quickly and Sydelle forgave North for his indiscretions without much effort. There were also some parts of the plot that could have been given a little more attention. But while I observed that these things could have been handled better, it wasn't as if they significantly impeded my reading experience.
What did get my panties in a bunch though was that one big thing is left unresolved. And the more we got to talking about it at book club, the more we agreed that Bracken probably hoped to write a sequel. This is obviously a little frustrating because no sequel was or likely will ever be written so readers are left just hoping for the best. I know some readers get very upset/pissed off when this happens so consider yourself warned!
I recommend Brightly Woven if you are looking for a solid Fantasy without having to commit to a series. It might not be perfect but it is still quite impressive and I doubt anyone would regret reading it. And who knows, maybe if it gets enough traction someday we will get a sequel!