Title:
A Book of Spirits and Thieves
Author:
Morgan Rhodes
Series:
Spirits and Thieves #1
Publisher: Razorbill
Release Date:
June 23, 2015
Summary from Goodreads:
Modern-day sisters discover deadly ancient magic in book 1 of this Falling Kingdoms spin-off series!

Worlds collide in this suspenseful, page-turning Falling Kingdoms spin-off series, which explores a whole new side of Mytica—and an even darker version of its magic.

Crystal Hatcher, Modern-day Toronto: It's a normal afternoon in her mother's antique bookshop when Crys witnesses the unthinkable: her little sister Becca collapses into a coma after becoming mesmerized by a mysterious book written in an unrecognizable language.

Maddox Corso, Ancient Mytica: Maddox Corso doesn't think much of it when he spots an unfamiliar girl in his small village. Until, that is, he realizes that she is a spirit, and he is the only one who can see or hear her. Her name is Becca Hatcher, and she needs Maddox to help get her home.

Farrell Grayson, Modern-day Toronto: Rich and aimless Farrell Grayson is thrilled when the mysterious leader of the ultra-secret Hawkspear Society invites him into the fold. But when he learns exactly what he has to do to prove himself, Farrell starts to question everything he thought he knew about family, loyalty, and himself….

Fate has brought these young people together, but ancient magic threatens to rip them apart.
Review
If you like magic,secret societies, action, adventure and trickery then A Book of Spirits and Thieves is the book for you. I had so much fun reading this one - with the story weaving between Mytica and present day and so many powers at play, all because of this ancient text. But what I love most about Rhodes' stories are her characters. She really excels at characterization and is exceptionally good at creating strong women. She also knows how to write multiple POV really well to craft a well-rounded story. As of now, I am still a bigger fan of the Falling Kingdoms series but this spin-off was pretty solid and I can't wait for more. Who knows which series will hold a bigger piece of my heart in the end!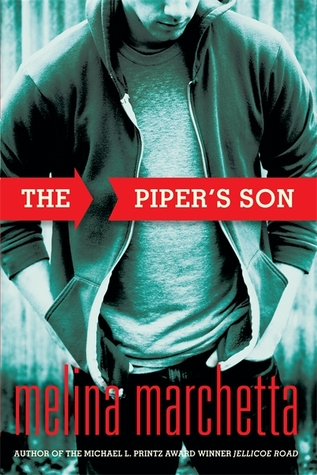 Title:
The Piper's Son
Author:
Melina Marchetta
Publisher:
Candlewick Press
Release Date:
August 14, 2012
Summary from Goodreads:
Award-winning author Melina Marchetta reopens the story of the group of friends from her acclaimed novel Saving Francesca - but five years have passed, and now it's Thomas Mackee who needs saving. After his favorite uncle was blown to bits on his way to work in a foreign city, Tom watched his family implode. He quit school and turned his back on his music and everyone that mattered, including the girl he can't forget. Shooting for oblivion, he's hit rock bottom, forced to live with his single, pregnant aunt, work at the Union pub with his former friends, and reckon with his grieving, alcoholic father. Tom's in no shape to mend what's broken. But what if no one else is either? An unflinching look at family, forgiveness, and the fierce inner workings of love and friendship, The Piper's Son redefines what it means to go home again.
Review
The Piper's Son was not my favorite Marchetta book but there is something about her work that makes it impossible for me not to love. They are always so raw and honest, almost unpolished in a sense, which makes them feel so real. It was both a joy and struggle to be back with Tom and the gang from Saving Francesca. A joy because I love these characters and will always want more time with them but a struggle because Tom was a mess. It wasn't easy to read this book but was ultimately worth it to see Tom get his life back under control. I also loved the part of the story that focused on his Aunt Georgie's story. Georgie had to get over her anger and her pride so that she could live happily. I could definitely relate to Georgie's story in the sense that I often care too much about what people think and I feel like that gets in the way of my own happiness. Simply put, I recommend all of Marchetta's work. There is no one else like her.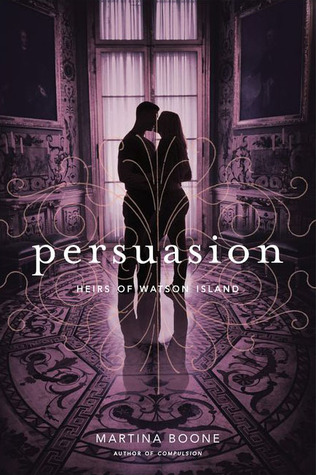 Title:
Persuasion
Author:
Martina Boone
Series:
The Heirs of Watson Island #2
Publisher: Simon Pulse
Release Date:
October 27, 2015
Summary from Goodreads:
Grieving the death of her godfather and haunted by her cousin Cassie's betrayal, Barrie returns from a trip to San Francisco to find the Watson plantation under siege. Ghost-hunters hope to glimpse the ancient spirit who sets the river on fire each night, and reporters chase rumors of a stolen shipment of Civil War gold that may be hidden at Colesworth Place. The chaos turns dangerous as Cassie hires a team of archeologists to excavate beneath the mansion ruins. Because more is buried there than treasure.

A stranger filled with magic arrives at Watson's Landing claiming that the key to the Watson and Beaufort gifts—and the Colesworth curse—also lies beneath the mansion. With a mix of threats and promises, the man convinces Barrie and Cassie to cast a spell there at midnight. But what he conjures may have deadly consequences.

While Barrie struggles to make sense of the escalating peril and her growing and forbidden feelings for Eight Beaufort, it's impossible to know whom to trust and what to fight for—Eight or herself. Millions of dollars and the fate of the founding families is at stake. Now Barrie must choose between what she feels deep in her heart and what will keep Watson's Landing safe in this stunning addition to a series filled with "decadent settings, mysterious magic, and family histories rife with debauchery" (Kirkus Reviews, on Compulsion).
Review
How I feel about Persuasion pretty closely mirrors how I feel about Compulsion. There are many elements of this story that I really like - the Southern Gothic vibe, the history between the founding families, the magic and mystery surrounding the plantations and more - yet it continues to fall victim to some trivial things that weigh the plot down - like all the secret keeping/lack of communication and making decisions for others. The relationship drama is a little too repetitive and much for my liking. But the setting and plot keep me coming back for more and Persuasion definitely upped the ante. I have so many questions that I can't wait to have answers to. SO suffice it to say, I am looking forward to the next book despite some of my grievances.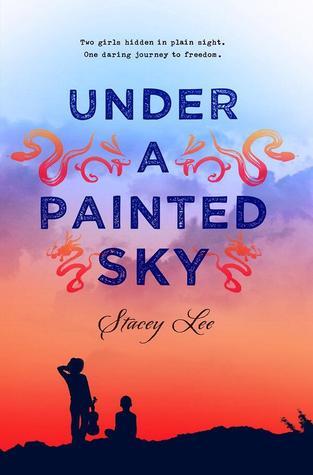 Title:
Under a Painted Sky
Author:
Stacey Lee
Publisher:
Simon Pulse
Release Date:
March 17, 2015
Summary from Goodreads:
Missouri, 1849: Samantha dreams of moving back to New York to be a professional musician—not an easy thing if you're a girl, and harder still if you're Chinese. But a tragic accident dashes any hopes of fulfilling her dream, and instead, leaves her fearing for her life. With the help of a runaway slave named Annamae, Samantha flees town for the unknown frontier. But life on the Oregon Trail is unsafe for two girls, so they disguise themselves as Sammy and Andy, two boys headed for the California gold rush. Sammy and Andy forge a powerful bond as they each search for a link to their past, and struggle to avoid any unwanted attention. But when they cross paths with a band of cowboys, the light-hearted troupe turn out to be unexpected allies. With the law closing in on them and new setbacks coming each day, the girls quickly learn that there are not many places to hide on the open trail.

This beautifully written debut is an exciting adventure and heart-wrenching survival tale. But above all else, it's a story about perseverance and trust that will restore your faith in the power of friendship.
Review
Under the Painted Sky is quite a beautiful story. The friendships in this book are really quite special and will likely win many of you over. There are also some incredibly important themes in this book relating to gender, race, good vs bad, basic human rights, and more. Honestly, it's an extremely impressive debut. But it was just a little too slow for my liking and the Oregon Trail adventure was not as captivating to me in the wake of reading Walk On Earth a Stranger by Rae Carson. My rating reflects more of how it made me feel than how I view this book, which is actually very highly.