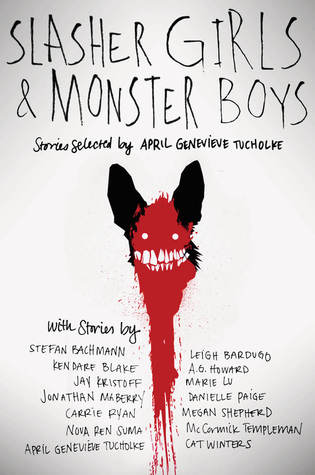 Title:
Slasher Girls & Monster Boys
Author:
April Genevieve Tucholke et al.
Publisher: Dial Books

Release Date:
August 18, 2015
Summary from Goodreads:
For fans of Stephen King, Neil Gaiman, Lois Duncan, and Daphne Du Maurier comes a powerhouse anthology featuring some of the best writers of YA thrillers and horror

A host of the smartest young adult authors come together in this collection of scary stories and psychological thrillers curated by Between the Devil and the Deep Blue Sea's April Genevieve Tucholke.

Each story draws from a classic tale or two—sometimes of the horror genre, sometimes not—to inspire something new and fresh and terrifying. There are no superficial scares here; these are stories that will make you think even as they keep you on the edge of your seat. From bloody horror to supernatural creatures to unsettling, all-too-possible realism, this collection has something for any reader looking for a thrill.

Fans of TV's The Walking Dead, True Blood, and American Horror Story will tear through tales by these talented authors:

Stefan Bachmann | Leigh Bardugo | Kendare Blake | A. G. Howard | Jay Kristoff | Marie Lu | Jonathan Maberry | Danielle Paige | Carrie Ryan | Megan Shepherd | Nova Ren Suma | McCormick Templeman | April Genevieve Tucholke | Cat Winters
Review
The Birds of Azalea Street by Nova Ren Suma
- 2.5 stars
This one is about a creepy next door neighbor and the teenage girls that suspect he is up to no good... and birds. Leonard made my skin crawl and the story got progressively more disturbing. Not bad, but nothing special either.
In the Forest Dark and Deep by Carrie Ryan
- 4 stars
This one had a twisted Alice in Wonderland theme to it which was awesome. It was definitely one of the more creative and creepy stories in this anthology but maybe a bit over my head. Nevertheless, I really enjoyed it and want to read more Carrie Ryan!
Emmeline by Cat Winters
- 2.5 stars
Cat Winters is very good at writing period pieces. Readers are transported to Northern France and feel the devastating effects of World War I on the country. But as far as a scary story goes, this one was a little predictable and pales in comparison to many of the other stories.
Verse Chorus Verse by Leigh Bardugo -
3 stars
This one was about a teenage star who partied a little too hard and was sent to a recovery center. Only the person who came back wasn't the same as the one who left. This story definitely snuck up on me. Very subtly creepy. But would it be fair of me to say that I expected more from Leigh Bardugo?
Hide and Seek by Megan Shepherd
- 4 stars
This one is about a girl who challenges death to a game to get a second chance at life. It was fast paced and so much fun. Easily one of my favorites!
The Dark, Scary Parts and All by Danielle Paige
- 3.5 stars
This story is about the misfit in High School who captures some unwanted attention only she doesn't realize that it's unwanted at first. It definitely had it's share of surprises and only kept getting better. I liked it!
The Flicker, The Fingers, The Beat, The Sigh
by April Genevieve Tucholke - 3 stars
This one was very I Know What You Did Last Summer only most of the story was focused on the back story rather than the aftermath. But it was still your classic horror movie tale (told in 30 pages or so). Good, not great.
Fat Girl with a Knife by Jonathan Maberry
- 3.5 stars
Zombie Apocalypses always make for good stories but I think I enjoyed this one more so because Dahlia was awesome. She got a lot of shit for being the fat girl but never by repeat offenders because she wasn't one to roll over and take it.
Sleepless by Jay Kristoff
- 4.5 stars
My first thought upon finishing this one was "Fucking Awesome!" It was like a Criminal Minds episode about creepy internet predators but with a twist at the end. My only complaint is that it was a little painful reading the online chats that completely butchered the English language. Do people really speak THAT poorly?
M.by Stefan Bachmann
- 3 stars
This story reminded me a little of Clue - a bunch of aristocrats are in a house and someone is murdered. There is a witness but she is blind so the murderer is pretty sure he got away with it only Misha isn't one to be underestimated. This one was fun. I liked the setting.
The Girl Without a Face by Marie Lu
- 4 stars
Psychological Thriller for the win! I found this one scarier than most, having a girl in a closet that haunted our MC. But finding out who she was and why she was there was the best part!
The Girl Who Dreamed of Snow by McCormick Templeman
- 3.5 stars
This one was about a plagued village where the girls didn't last very long and a shaman's daughter who had a job to do. I enjoyed all of the moving parts and the bittersweet ending. This fantasy was a welcome change to the rest of the stories!
Stitches by A. G. Howard
- 5 stars
This one is about a man who makes a deal to swap the sinful parts of his body with a good person's parts. It was dark and disturbing and completely took me by surprise. I absolutely LOVED it. Definitely my favorite of the bunch - they saved the best for (almost) last!
On the I-5 by Kendare Blake
- 4 stars
This story is about an unassuming girl at a truck stop who is seeking vengeance for all the other naive girls out there who get into cars with strangers. I didn't quite understand the magic/paranormal piece in this one but I liked it even with the sad undertones.
Overall Impression
I definitely expected this anthology to be WAY scarier than it was but it probably worked better for me as is since I'm a big baby.As is typical with anthologies, some stories are better than others, but I enjoyed all of them and overall, I thought this was a worthwhile read. And it is PERFECT for this time of year. Just enough scary and creepy to fit the Halloween/Fall mood without giving me nightmares. I definitely recommend it if you like creepy/scary reads!