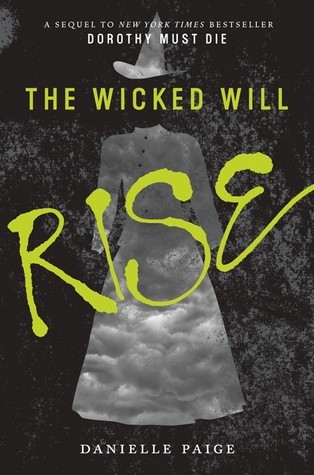 Title:
The Wicked Will Rise
Author:
Danielle Paige
Series:
Dorothy Must Die #2
Publisher: HarperCollins
Release Date:
March 31, 2015
Summary from Goodreads:
In this dark, high-octane sequel to the New York Times bestselling Dorothy Must Die, Amy Gumm must do everything in her power to kill Dorothy and free Oz.

To make Oz a free land again, Amy Gumm was given a mission: remove the Tin Woodman's heart, steal the Scarecrow's brain, take the Lion's courage, and then Dorothy must die...

But Dorothy still lives. Now the Revolutionary Order of the Wicked has vanished, and mysterious Princess Ozma might be Amy's only ally. As Amy learns the truth about her mission, she realizes that she's only just scratched the surface of Oz's past—and that Kansas, the home she couldn't wait to leave behind, may also be in danger. In a place where the line between good and evil shifts with just a strong gust of wind, who can Amy trust—and who is really Wicked?
Review
The Wicked Will Rise was one hell of a follow up to Dorothy Must Die. In fact, I might have enjoyed it even more than the first. I forgot how much I loved this dark and unpredictable Oz and continuing to explore this world was a delight. I remember just enough of the original Oz that everything feels familiar and yet completely new at the same time. I can't get enough.
Having already developed the back story, Paige was able to jump right into the action in this sequel. This book picks up right where Dorothy Must Die leaves off, as in right after all the shit hit the fan. Within the first 50 pages, Amy had already killed another one of Dorothy's sidekicks and was trying to regroup with the rest of the Order. This book was one adventure after another through the different worlds within Oz. And it ended with yet another epic showdown.
As a sequel should do, The Wicked Will Rise added new layers to the plot. We get some answers – like hows and whys - but we also have new questions – like what is going on with Amy. I can't make heads or tails of most of the characters (in a good way) and have no clue what Paige has in store for us next. The perfect recipe for anticipating the next book!
The Wicked Will Rise is everything a sequel should be. I am even more impressed with it than I was with Dorothy Must Die, and I was pretty impressed with that one. Paige might be pretty new to the writing scene but she's definitely taking it by storm. I regret not reading this book sooner but I won't make the same mistake with the sequel! Trust me, you want to read this series!