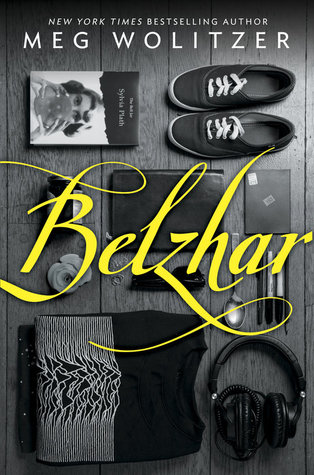 Title:
Belzhar
Author:
Meg Wolitzer
Publisher:
Dutton Juvenile
Release Date:
September 30th 2014
Source:
BEA 2014 & Library
Summary from Goodreads:
If life were fair, Jam Gallahue would still be at home in New Jersey with her sweet British boyfriend, Reeve Maxfield. She'd be watching old comedy sketches with him. She'd be kissing him in the library stacks.

She certainly wouldn't be at The Wooden Barn, a therapeutic boarding school in rural Vermont, living with a weird roommate, and signed up for an exclusive, mysterious class called Special Topics in English.

But life isn't fair, and Reeve Maxfield is dead.

Until a journal-writing assignment leads Jam to Belzhar, where the untainted past is restored, and Jam can feel Reeve's arms around her once again. But there are hidden truths on Jam's path to reclaim her loss.

From New York Times bestselling author Meg Wolitzer comes a breathtaking and surprising story about first love, deep sorrow, and the power of acceptance.
Review
I am not going to lie, I really did not really know the summary going into this book; I saw that the library had it in audio format and so I figured I would give it a try. The narrator just drew me in right away and held me captive through the whole story. I think if it was not for the narrator I may have not enjoyed the book as much. As I write this review I am trying to think what genre/category this book fit into. It is a contemporary issues book at heart but then there is magic weaved into the story, not your wizards kind of magic either. The magic here is far more subtle.
What hooked me was the setting and the entire premise. An alternate school that caters to students that have faced something and are a bit scarred emotionally or socially and unable to be in a more traditional high school environment. The story revolves around each student in the Special Topics English class; each student has to face their struggles with the help of their classmates and journals.
I really enjoyed the character development and friendship building. The students really learned to trust one another and confide in each other. It is a short book,so it goes by very quickly.
Why just 3 stars though... The main character. She just got on my nerves and I found her to be more annoying as the book progressed. Her voice was immature and whiny. The longer I sat here and thought about the book the more a small things started to bug me. I did not care for the big twist in the plot which really weakened the overall story for me.
The best way to describe this book is
interesting
. Belzhar tried to tackle some issues while blending magical elements and deep character development. It works out in some aspects of the plot but not in others.