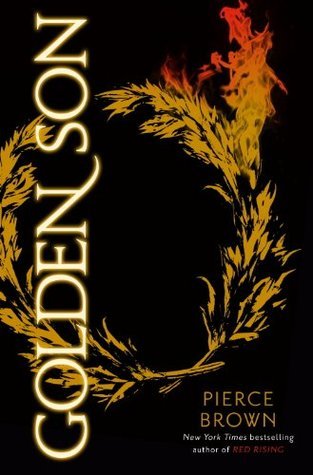 Title:
Golden Son
Author:
Pierce Brown
Series:
Red Rising Trilogy #2
Publisher:
Del Rey (Random House)
Release Date:
January 6, 2015
Source:
ARC borrowed from Katie @
Polished Page-Turners
(
thanks Katie!!
)
Summary:
With shades of The Hunger Games, Ender's Game, and Game of Thrones, debut author Pierce Brown's genre-defying epic Red Rising hit the ground running and wasted no time becoming a sensation. Golden Son continues the stunning saga of Darrow, a rebel forged by tragedy, battling to lead his oppressed people to freedom.
As a Red, Darrow grew up working the mines deep beneath the surface of Mars, enduring backbreaking labor while dreaming of the better future he was building for his descendants. But the Society he faithfully served was built on lies. Darrow's kind have been betrayed and denied by their elitist masters, the Golds—and their only path to liberation is revolution. And so Darrow sacrifices himself in the name of the greater good for which Eo, his true love and inspiration, laid down her own life. He becomes a Gold, infiltrating their privileged realm so that he can destroy it from within.
A lamb among wolves in a cruel world, Darrow finds friendship, respect, and even love—but also the wrath of powerful rivals. To wage and win the war that will change humankind's destiny, Darrow must confront the treachery arrayed against him, overcome his all-too-human desire for retribution—and strive not for violent revolt but a hopeful rebirth. Though the road ahead is fraught with danger and deceit, Darrow must choose to follow Eo's principles of love and justice to free his people. He must live for more.
Review
They say the best cure for a book hangover is falling in love with another series (at least I think that is what they say). Well, the Red Rising Trilogy has been that series for me as it helped curb the loss that came from having finished The Lotus War. The two series have a very similar feel to them and that is the feeling of "HOLY SHIT WHAT THE HELL IS HAPPENING". I thought Red Rising was great but Golden Son is one of those books that is so freaking fantastic that EVERYTHING pales in comparison. It's been weeks since I finished this book and I am still marveling at its perfection.

Golden Son picks up a couple years after Red Rising concludes, right in the middle of a battle, and doesn't slow down for a minute. Early into the story, Darrow does something that fractures society and leads to an all-out war among the powerful families. And with that, comes a series of battles during which Darrow must out-maneuver his enemies if he hopes to survive and see his revolution to the end. But it's not just the endless action from the war that makes this book so damn good. Or the endless surprises that Brown weaves into the story. Amidst all the fighting, friendships are tested, truths are revealed, the seeds of betrayal are sown... There is such depth and complexity to these characters and this story that it has to be one of the best I've ever read. Every page left me in awe and in need of more.

I will warn you that this book is GRIM. But call me a masochist, I love stories that are tragic because it makes you appreciate everything so much more. I will also warn you that this book is LONG. But I didn't mind it's length because I was so in love with the story. I am completely and utterly and Brown's mercy now and after that ending (THAT ENDING!!) I am both anxious for and terrified of the last book.

I honestly couldn't recommend this series and this sequel enough for all ages and genders. It is utterly brilliant and one of my most favorites ever.