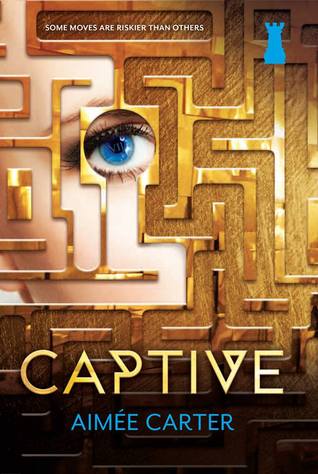 Title:
Captive
Author:
Aimee Carter
Series:
The Blackcoat Rebellion #2
Publisher:
Harlequin Teen/Audible Studios
Release Date:
November 25, 2014
Source:
Audiobook provided by Audible Studios in exchange for an honest review (
Thanks Audible!
)
Summary from Goodreads:
For the past two months, Kitty Doe's life has been a lie. Forced to impersonate the Prime Minister's niece, her frustration grows as her trust in her fake fiancé cracks, her real boyfriend is forbidden and the Blackcoats keep her in the dark more than ever.

But in the midst of discovering that her role in the Hart family may not be as coincidental as she thought, she's accused of treason and is forced to face her greatest fear: Elsewhere. A prison where no one can escape.

As one shocking revelation leads to the next, Kitty learns the hard way that she can trust no one, not even the people she thought were on her side. With her back against the wall, Kitty wants to believe she'll do whatever it takes to support the rebellion she believes in—but is she prepared to pay the ultimate price?
Review
As promised, Captive is a stronger book than its predecessor. Pawn was all about Kitty becoming Lila, first appearance-wise and then responsibility-wise but not much happened excitement-wise until the end. However, that's not the case with Captive, which offers readers a lot more.
The excitement in Captive can be contributed in large part to it mostly taking place in Elsewhere - a merciless prison where it is every man (or woman) for themselves - which is where Kitty is sent after she proves that she is more trouble than she is worth. In Elsewhere, the plot thickens as Kitty discovers more ties to the Blackouts and the man they are at war with. There was a good pace to this book as Kitty makes these new discoveries all the while trying to stay alive, which isn't easy to do wearing Lila's face. There were quite a few surprises in this sequel, which is always a plus, and the ending was strong. The plotting and action in Captive has definitely helped pull this series away from your average Dystopian and the plot progressed very well for a second-in-series book. Overall, I was pleasantly surprised by this sequel.
But that being said, it is still failing to impress me as much as it seems to have everyone else. I don't know whether it is Kitty, who I can't seem to make up my mind about, the still somewhat lackluster feel to the story, or something else. I liked it and I had fun reading it, but I still didn't love it.
If you liked Pawn, I can almost guarantee that you will enjoy Captive but then you wouldn't need me to tell you to read it. However, if you were on the fence about reading Captive, I would say to give it a chance, since I think it is good enough to sway you in favor of this series. You might be pleasantly surprised like I was. But I can't say this series is a must read because it hasn't reached that status yet. But we'll see what happens in the conclusion. If the improvement over the first book is any indication, Aimee Carter might just convince me.
Audiobook
I listened to the audiobook for Captive and although the narrator, Lameece Issaq, was not my favorite, I have no real complaints. I think she did a pretty good job with voice inflection to distinguish between the different characters and to keep from being monotonous. I also know that some audiobook listeners enjoy shorter books and this one clocks in at 8 hours and 4 mins, which is pretty average for YA but pretty short as far as audiobooks go. Anyway, here is a clip so you can see for yourselves!