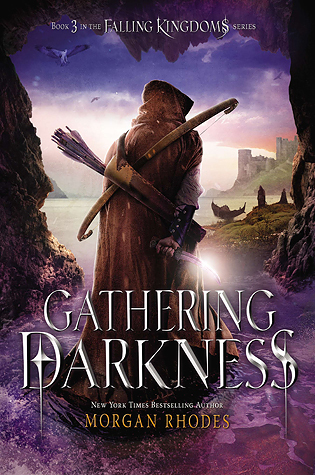 Title:
Gathering Darkness
Author:
Morgan Rhodes
Series:
Falling Kingdoms #3
Publisher:
Razorbill
Release Date:
December 9, 2014
Summary from Goodreads:
In GATHERING DARKNESS, book three of the New York Times bestselling Falling Kingdoms series, the stakes have never been higher as three teams push forward on a race to find the Kindred, the four elemental crystals possessing ancient all-powerful magic, first:

Prince Magnus has just witnessed torture, death, and miracles during the bloody confrontation that decimated the rebel forces. Now he must choose between family and justice as his father, the cruel King Gaius, sets out to conquer all of Mytica. All Gaius needs now are the Kindred - the four elemental crystals that give godlike powers to their owner. But the King of Blood is not the only one hunting for this ancient, storied magic...

• THE KRAESHIANS join the hunt. Ashur and Amara, the royal siblings from the wealthy kingdom across the Silver Sea, charm and manipulate their way to the Kindred, proving to be more ruthless than perhaps even the King of Blood himself.

• THE REBELS forge ahead. Princess Cleo and vengeful Jonas lead them, slaying with sweetness, skill, and a secret that can control Lucia's overpowering magic - all so they can use the Kindred to win back their fallen kingdoms.

• THE WATCHERS follow Melenia out of the Sanctuary. They ally in the flesh with King Gaius, who vows to use Lucia's powers to unveil the Kindred.

The only certainty in the dark times is that whoever finds the magic first will control the fate of Mytica... but fate can be fickle when magic is involved.
Review
I have been seriously impressed by this series from the start. Originally told from the perspective of 4 individuals but growing in scope, the Falling Kingdom series tells the story of a greedy king, a rebel leader, a vengeful Princess, a troubled Prince, a young Sorceress, and an immortal watcher who are all vying for a powerful source of magic for their own reasons. It may seem like a lot, but it's easy to keep track of the different storylines since they all weave together. I love the intricacy of it all and the different motives that drive them toward this power.

There is scheming and spying and deception and romance and fighting and magic and all sorts of fun stuff that I love to read about. And Morgan Rhodes continues to surprise us with her plot twists so even when I think I know what's going on, I come to find that I don't. But perhaps my favorite thing at the moment is the feelings that are starting to surface in two of my favorite characters. It's a hate-to-love romance my friends and I am very pleased about what happened in this book, although Rhodes definitely made us work for it!

I also love that all of the characters are flawed and complex. I keep changing my mind about some of them which keeps things interesting. I have my favorites that I am rooting for but at this point it looks like everyone has a fair chance of coming out on top at the end of this series. It's scary (but exciting) not knowing how my favorites will fare.

Another thing I love about this series is that it reads both fast and slow at the same time. It reads fast in the way that there is so much that is happening that I was constantly entertained but it reads slow in the way that there is lots of wonderful world-building and a slow but steady build up of the story. I believe there are supposed to be 6 books so we are only half way there! I am really excited for what is to come.

It's hard to say much without spoiling the series so I will leave it at that. If you are a fantasy-lover than this is a must read for you! If you only dabble in Fantasy than know that this has all the right elements but is on the more detail-oriented end of the fantasy spectrum (so don't expect light and quick). I can't quite claim it as a favorite (yet) but it is a very strong contender. I definitely recommend it!