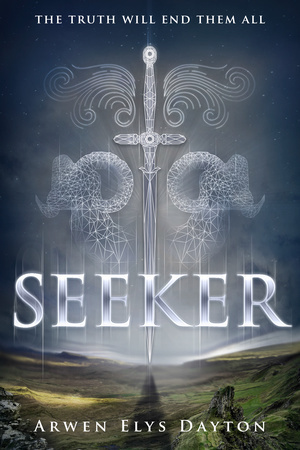 Title:
Seeker
Author:
Arwen Elys Dayton
Series:
Seeker #1
Publisher:
Delacorte Books for Young Readers
Release Date:
February 10, 2015
Source:
ARC Received from Publisher in exchange for an honest review (
Thanks Random House!
)
Summary from Goodreads:
Quin Kincaid has been put through years of brutal training for what she thinks is the noble purpose of becoming a revered 'Seeker'.
Only when it's too late does she discover she will be using her new-found knowledge and training to become an assassin. Quin's new role will take her around the globe, from a remote estate in Scotland to a bustling, futuristic Hong Kong where the past she thought she had escaped will finally catch up with her.
Review
Seeker was not at all what I was expecting it to be but I think that worked in its favor...

The synopsis says that Quin has trained her whole life to become a Seeker, only to discover that, rather than serve some noble purpose, she is meant to serve as an assassin. From this, I expected to read a story having something to do with a corrupt secret society, assassination jobs and a girl who wishes to defy and correct such things. Regardless, I expected some "Seeking" to happen, whatever that, in turn, may be. But in reality, this book had to do with everything BUT Seeking. And yet, it was pretty awesome!

Something happens on the night that Quin and Shinobu take their Seeker oaths that makes them run away from their birthright and never look back. Only John, who is out to avenge his family, won't let them leave it all behind. He needs a Seeker for both their athame - a tool used for traveling - and for their knowledge. He is relentless in hunting them down and yet he is not the only threat. There are also the Dreads - or justice keepers, if you will - who have their own wishes for the athame, but they are not all in agreement either. Basically, there were many moving parts to this story - written through multiple POVs - but it was fabulous in its complexity and I couldn't put it down! All of the voices were unique and interesting such that I never preferred one over the other - a true feat!

The battle over the athame was exciting and unpredictable, especially with different motives driving each player. Quin didn't want the athame for herself, but she didn't want John to have it, for fear of what he would do with it. It wasn't clear what John had wanted to do with the athame, only that he promised his dying mother he would get it back after it was stolen from their family. This was one of those rare cases where I didn't have a favorite. I honestly couldn't make up my mind over who I thought should rightfully have the athame between these two.

Now, as pleasant as I found the story to be, I did have a couple reservations. The first being that I have a LOT of questions about EVERYTHING. The world-building felt a little lacking in that regard. The second, albeit minor, reservation, is that I am less than thrilled about the romance jumped from one character to another at the end. It's not that I don't prefer that character, it just felt a little engineered.

Arwen Elys Dayton's debut was thrilling and unexpected. I am definitely intrigued by this new story and looking forward to the next in series, although I am some answers come with it.