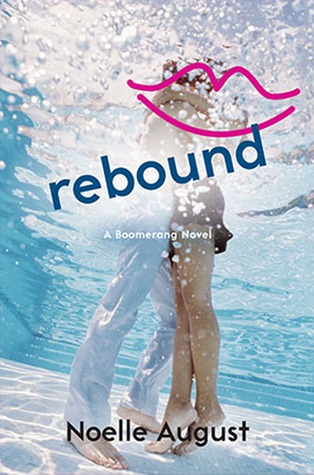 Title:
Rebound
Author:
Noelle August
Series:
Boomerang #2
Publisher:
William Morrow Paperbacks
Release Date:
February 10, 2015
Source:
ARC received from Publisher in exchange for an honest review (
thanks HarperCollins!
)
Summary from Goodreads:
Hooking up is only the beginning of the fun in this sexy and irresistible second installment of the thrilling New Adult series, Boomerang.
Adam Blackwood has it all. At twenty-two, he's fabulously wealthy, Ryan Gosling-hot and at the top of the heap in the business world. His life is perfect, until a scandal from his past resurfaces and knocks the tech wunderkind down, throwing his company, Boomerang, a hook-up site for millennials, into chaos.
Three years ago, Adam married his high school love—and then lost her in a tragic accident. Now, the heartbreak and guilt he's tried to bury with work and women begins to take over his life.
Alison Quick, the twenty-one-year-old daughter of a business tycoon—and the very ex-girlfriend of Boomerang's former intern, Ethan—has a problem of her own. She's got one chance to prove to her father that she deserves a place in his empire by grabbing control of Boomerang and taking Adam down.
But as Alison moves in on him, armed with a cadre of lawyers and accountants, she discovers there's much more to Adam and Boomerang than meets the eye. Will earning her father's approval come at the price of losing her first real love? It appears so, unless Adam can forgive her for wrecking his life and trying to steal his livelihood. But Alison hopes that old adage is right. Maybe love can conquer all.
Review
I thought Rebound started off really strong. Allison's father is thinking of investing in Boomerang and wants Allison to do some due diligence on the company. She decides to get a jump start on work and goes to a Halloween party to do some incognito early reconnaissance on the Boomerang employees. Instead, she ends up having a very intimate and steamy moment with Zorro who turns out to be Adam Blackwood, the owner of the company.

If you've read Boomerang, you can see that the two books start similarly. Adam and Alison are not quite competitors but they have reasons for wanting to keep their relationship strictly professional. But it's hard for them to ignore the obvious chemistry that is building between them. There is a ton of banter, innuendos and LOTS of sexual tension, which was all good and fun.

However, Rebound isn't all fun and games. It actually gets pretty serious in tone at times. Adam is plagued by a secret he is hiding that, if exposed, could undermine his business. Meanwhile, Ali is still struggling to forgive herself for past mistakes; a struggle which is no doubt fueled by her complicated relationship with her father, which makes her feel like she has something to prove. Both characters have some darkness in their past which weighs on their conscious and that definitely came through to the reader. That and the fact that Alison's father ended up blackmailing Adam…

I was really happy to get Adam and Alison's story. Both characters had a strong presence in Boomerang but were not necessarily cast in the best light. But I really liked them both, as people, in the end and I thought they made a really great couple. I loved their easy way with each other and shared interests. Their relationship felt a bit more mature and solid than Ethan and Mia's.

Rebound follows a somewhat predictable plotline, with a lot coming together at the very end. It wasn't as light and carefree as I expected but that was probably just ignorance on my part. Overall, it was an enjoyable read and I recommend it to fans of Boomerang, or NA contemporary. Just don't expect quite the same read!