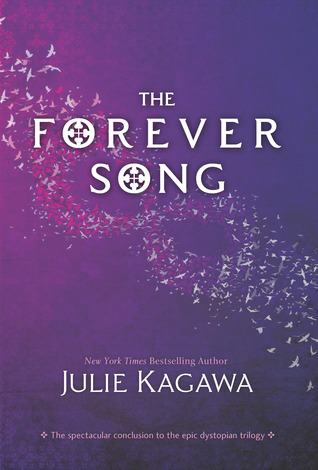 Title:
The Forever Song
Author:
Julie Kagawa
Series:
Blood of Eden #3
Publisher:
Harlequin Teen
Release Date:
April 15, 2014
Summary from Goodreads:
Vengeance will be hers.

Allison Sekemoto once struggled with the question: human or monster? With the death of her love, Zeke, she has her answer.

Monster.

Allie will embrace her cold vampire side to hunt down and end Sarren, the psychopathic vampire who murdered Zeke. But the trail is bloody and long, and Sarren has left many surprises for Allie and her companions - her creator Kanin, and her blood brother, Jackal. The trail is leading straight to the one place they must protect at any cost - the last vampire-free zone on Earth, Eden. And Sarren has one final, brutal shock in store for Allie.

In a ruined world where no life is sacred and former allies can turn on you in one heartbeat, Allie will face her darkest days. And if she succeeds, her triumph will be short-lived in the face of surviving forever alone.

THE FINAL HUNT IS ON.
Review
I started The Immortal Rules with a sea of hype surrounding it to which it unfortunately did not live up to. So when I started The Eternity Cure, my expectations were a lot lower but then it blew me away. The Forever Song fell somewhere between the two. Not quite as exciting as TEC, but the ending was great.

The majority of TFS was about the hunt for Sarren. These travel-dominated type books with engineered moments of action/suspense almost always fall flat to me, so I think that is why this one fell short of 5 stars, but Julie Kagawa still writes it better than most. The not-so-unexpected arrival of a certain someone that was in an unexpected state of mind absolutely crushed me (hah, my attempt at spoiler-free). But that was about the only thing of note until the crew arrives in Eden. But from that moment on, things were all uphill. My only qualm was that Sarren was like a cheesy horror film villain in that he could not be killed. After his like 5th resurrection (I don't know how many, it just felt like a lot), I found myself thinking "Can he just die already?". But the ending was really strong and full of action and I enjoyed it very much so.

Jackal wormed his way into my heart in TEC and remains the highlight of this series for me. His humor was perfect and I found myself smiling or laughing almost everytime he opened his mouth. As for Sarren, he is still one of the creepiest villains I have ever had the displeasure of reading about. *Shudders*. In general this series has a really strong set of characters and a lot of interesting relationship dynamics. But I am afraid to say anything more about anyone else so as not to spoil anything.

This was the first series I read by Julie Kagawa but I can guarantee that it won't be the last. I understand why she has such a strong fan base now. Even in a genre that is so oversaturated, she knows how to set herself apart. I definitely recommend this series.