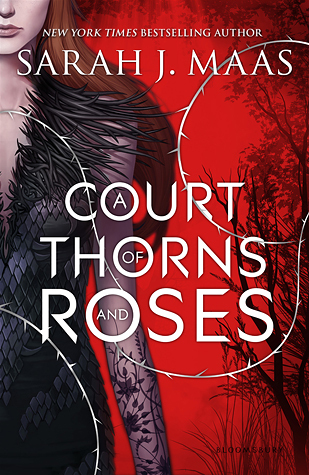 Title:
A Court of Thorns and Roses
Author:
Sarah J. Maas
Series:
A Court of Thorns and Roses #1
Publisher:
Bloomsbury Children's
Release Date:
May 5, 2015
Source:
ARC provided by Publisher in exchange for an honest review (thanks Bloomsbury!)
Summary from Goodreads:
A thrilling, seductive new series from New York Timesbestselling author Sarah J. Maas, blending Beauty and the Beast with faerie lore.

When nineteen-year-old huntress Feyre kills a wolf in the woods, a beast-like creature arrives to demand retribution for it. Dragged to a treacherous magical land she only knows about from legends, Feyre discovers that her captor is not an animal, but Tamlin—one of the lethal, immortal faeries who once ruled their world.

As she dwells on his estate, her feelings for Tamlin transform from icy hostility into a fiery passion that burns through every lie and warning she's been told about the beautiful, dangerous world of the Fae. But an ancient, wicked shadow grows over the faerie lands, and Feyre must find a way to stop it . . . or doom Tamlin—and his world—forever.

Perfect for fans of Kristin Cashore and George R. R. Martin, this first book in a sexy and action-packed new series is impossible to put down!
Review
In A Court of Thorns and Roses we meet a strong, but modest, new heroine, a mighty but compassionate immortal fae, and a new vibrant but deadly world on the brink of conquest. And I loved it all. Once again, Sarah J. Maas dazzles us with her ability to weave romance, fantasy, tragedy and triumph in this mesmerizing new series.

The first two-thirds of this book are largely dedicated to world-building and the slow-burning romance between Feyre and Tamlin. After Feyre is whisked away to the Spring Court of the Fae land of Prythian, she pushes the boundaries of her new prison and captor. While doing so she learns more of the Fae world and the blight that threatens both their land and hers. But she is promised that her family is taken care of and she is safest where she is at and so she begins to accept her new home. Meanwhile, Tamlin's kindness is breaking down her walls and all the misconceptions Feyre had about the Fae. He is generous, patient, kind, brave, playful and bears a terrible weight for his people that make him and Feyre more alike than they'll admit. Eventually they both give into their growing affection and hot damn it is wonderful...

The last third of this book is non-stop action. The danger that threatened them has finally made an appearance and the fate of the world rests on Feyre. Once I reached this point in the story, I could not stop reading. All of the information that was gathered in the beginning of the book comes to fruition and it's a whirlwind of trials and magic and politics and scheming and fiery passion. The ending seriously blew me away. And I grew to love the secondary characters as they were given more attention, especially Lucien and Rhysand who really stole my heart here.

I am over the moon that Sarah. J. Maas has given us another series to fall in love with and I can't wait to see what she has in store for us. It is every bit as lovely as one would expect from her. I could honestly live in her words forever. This is a must read.