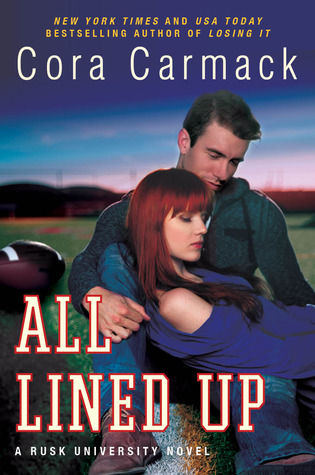 Title:
All Lined Up
Author:
Cora Carmack
Publisher:
William Morrow Paperbacks
Release Date:
May 13th 2014
Summary from Goodreads:
New York Times and USA Today bestselling author Cora Carmack follows up her trio of hits—Losing It, Faking It, and Finding It—with this thrilling first novel in an explosive series bursting with the Texas flavor, edge, and steamy romance of Friday Night Lights.

In Texas, two things are cherished above all else—football and gossip. My life has always been ruled by both.

Dallas Cole loathes football. That's what happens when you spend your whole childhood coming in second to a sport. College is her time to step out of the bleachers, and put the playing field (and the players) in her past.

But life doesn't always go as planned. As if going to the same college as her football star ex wasn't bad enough, her father, a Texas high school coaching phenom, has decided to make the jump to college ball… as the new head coach at Rusk University. Dallas finds herself in the shadows of her father and football all over again.

Carson McClain is determined to go from second-string quarterback to the starting line-up. He needs the scholarship and the future that football provides. But when a beautiful redhead literally falls into his life, his focus is more than tested. It's obliterated.

Dallas doesn't know Carson is on the team. Carson doesn't know that Dallas is his new coach's daughter.

And neither of them know how to walk away from the attraction they feel.
Review
Cora Carmack's books are my first choice when I am in the mood for a reading change up. There are times when the heavy emotional books, intricate world building, and intense reads give me a book hangover and all I am in the mood for is something easy to read, that will bring a smile to my face. Without fail, All Lined Up provided that and more, I was laughing and swooning in the fast and fun book.
All Lined Up was a great mix of romance, humor and college drama. I love the slow building tension between Dallas and Carson. The college emotions and thoughts about romance, dating, and love felt so genuine. There is the awkward meet up at a party, the playful exchanges, and of course the football aspects that just all fit together in this great college book. Carson faces struggles balancing life and school while being a student athlete. Dallas is getting over her first love while trying to find her place in a new environment. The narration changes between both Dallas and Carson giving the reading insight into the true feelings of each character exposing those vulnerable self conscious moments and those second guessing/over analyzing thoughts. It all felt so honest and real.
Aside from the main characters, the secondary characters compliment the story so well. Dallas has a rock star best friend that supports her, has her back and challenges her at the same time. Fantastic characters, realistic emotions, and humor! All Lined Up has some awesome lines, for example:
"Or even worse...panting after him like he's bacon dipped in Nutella wrapped in more bacon."
"Do they make WD-40 for flirting? Because I am rusty."
I hands down recommend All Lined Up! It is the exact kind of new adult book that I love; the fast paced plot, fantastic characters, and well done love story make a perfect read. I highly suggest picking up a copy and laying by the pool/on the beach with this great book!