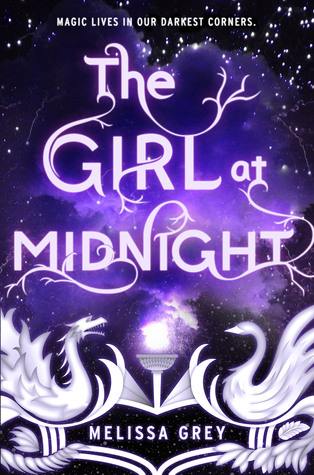 Title:
The Girl at Midnight
Author:
Melissa Grey
Series:
The Girl at Midnight #1
Publisher:
Delacorte Press
Release Date:
April 28, 2015
Source:
ALA MW
Summary from Goodreads:
Beneath the streets of New York City live the Avicen, an ancient race of people with feathers for hair and magic running through their veins. Age-old enchantments keep them hidden from humans. All but one. Echo is a runaway pickpocket who survives by selling stolen treasures on the black market, and the Avicen are the only family she's ever known.

Echo is clever and daring, and at times she can be brash, but above all else she's fiercely loyal. So when a centuries-old war crests on the borders of her home, she decides it's time to act.

Legend has it that there is a way to end the conflict once and for all: find the Firebird, a mythical entity believed to possess power the likes of which the world has never seen. It will be no easy task, but if life as a thief has taught Echo anything, it's how to hunt down what she wants . . . and how to take it.

But some jobs aren't as straightforward as they seem. And this one might just set the world on fire.
Review
Can a book be my OTP? Because the Girl at Midnight was the Ron to my Hermione, the Jase to my Sam, the Akiva to my Karou. I honestly feel like this book was written for me; I simply loved everything about it.
Let's start with the storyline. The are two ancient races - a bird-like race (the Aviden) and a dragon-like race (the Drahkarin) - that have been at war with each other for as long as anyone can remember. Some among them believe that the only way to end the war peacefully is to find the legendary firebird with immense power. Both sides are looking for it and it's a race to whoever finds it first. But along the way, an unlikely alliance forms between Echo, the Avicen-raised human, Cassius, the (ex) Prince of the Drakharin, Ivy, an Avicen healer, Dorian, a Drahkarin (ex) royal guard, and Jasper, an eccentric Avicen scoundrel. And then it's them against the worst of both races. This book had a treasure trail (of sorts) and was full of action. Basically everything I could hope for and more.
And then there were these wonderful characters. Echo is my girl. She is sassy and energetic and we'd totally be best friends in real life. I was constantly entertained by her. And hello super-sexy Dragon Prince! The group and relationship dynamics in this book were great and I loved simply watching them spend time together. This book also had some pretty scary villains. I can't wait to see where the next book leads them!
Sure, there were some similarities to books I've read before but nothing overwhelming in my opinion. I enjoyed every second reading this book and would recommend it without reservation. It was an amazing first book, in what promises to be one hell of a series! Easily a new favorite!