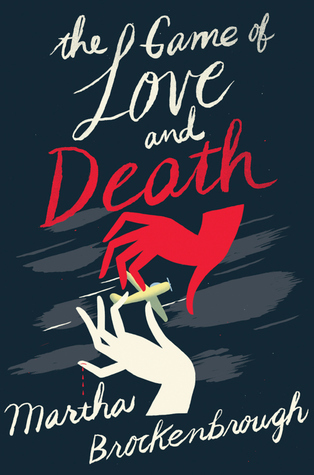 Title:
The Game of Love and Death
Author:
Martha Brockenbrough
Publisher:
Arthur A. Levine Books
Release Date:
April 28, 2015
Source:
ALA MW
Summary from Goodreads:
Antony and Cleopatra. Helen of Troy and Paris. Romeo and Juliet. And now . . . Henry and Flora.

For centuries Love and Death have chosen their players. They have set the rules, rolled the dice, and kept close, ready to influence, angling for supremacy. And Death has always won. Always.

Could there ever be one time, one place, one pair whose love would truly tip the balance?

Meet Flora Saudade, an African-American girl who dreams of becoming the next Amelia Earhart by day and sings in the smoky jazz clubs of Seattle by night. Meet Henry Bishop, born a few blocks and a million worlds away, a white boy with his future assured — a wealthy adoptive family in the midst of the Great Depression, a college scholarship, and all the opportunities in the world seemingly available to him.

The players have been chosen. The dice have been rolled. But when human beings make moves of their own, what happens next is anyone's guess.

Achingly romantic and brilliantly imagined, The Game of Love and Deathis a love story you will never forget.
Review
The Game of Love and Death was an eloquently told tale of love prevailing against all odds. It was atmospheric and romantic and I was easily swept up by these two kindred spirits. But while I am left impressed and appreciative, I am not wow'ed. The story was missing that little something extra for me. But it was still a really good one, as well as an important one.
I loved the idea of a game being played between Love and Death and how it overarched the romance between Henry and Flora. While Love and Death couldn't mess with the players directly, they could influence them through any number of ways and Death played a mean game. She took almost everyone and everything from Flora causing her to believe that love and happiness never lasted. And as if that weren't enough, she was ever the temptress, offering Henry and Flora something they both wanted desperately that would pull them away from each other. But Love had his own set of tricks up his sleeve and encouraged Henry to follow his heart and not to give up on Flora so easily.
But even without Love and Death's interference, Henry and Flora had some serious obstacles to overcome. I can't recall the exact time period for this story but segregation was still present and mixed-race couples were not accepted. If they were to choose each other, it would very much so be Henry and Flora against the world.
While Henry and Flora were interesting characters by themselves, Love and Death were the real shining stars for me. They were so complex and there was a very interesting dynamic happening between them. Death especially was a difficult one to puzzle out. She was merciless and ambitious but at times she would show compassion and understanding. I was very intrigued by her character.
So in summary, there was a lot about The Game of Love and Death that I found appealing and I think this book will be a success for readers who like period romances with a twist. The only place it fell short for me was that it didn't pack that extra punch of feels.